In forest, Nature & small heritage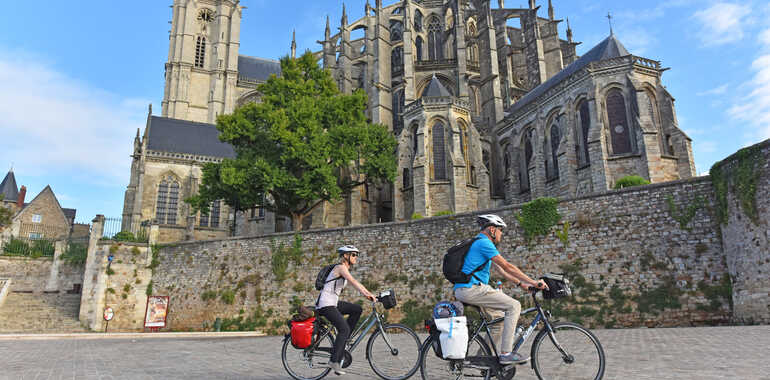 Leaving central Le Mans, the V44 cycle route takes you to the banks of the Huisne and lovely greenways leading to the grand Plantagenet Epau Abbey and through L'Arche de la Nature, a protected nature zone on the edge of Le Mans, reflecting the different types of countryside to be found around the Sarthe. The route continues on quiet roads, going past meadows, hedgerows and forests, to Parigné-l'Evêque and Le Grand-Lucé.
The route
The V44 route is well signposted. Enjoy the greenways and cycle tracks along the Huisne and through L'Arche de la Nature. Then you join quiet roads.
The track is slightly rough for 1.5km between Le Pâtis Croix (after Changé) and La Petite Chicottière and as you arrive at Parigné-l'Evêque.
SNCF
Gare du Mans
Ligne 21 Le Mans - Angers - Nantes
Ligne 23 Le Mans - Nogent le Rotrou - Paris
Ligne 25 Le Mans - Château du Loir - Tours
Ligne 22 Le Mans - Laval - Rennes
Ligne 24 Le Mans - Alençon - Caen
BUS service
Sncf service - Line 26 Le Mans – Saumur (Bus)
TIS network
Line 16 La Chartre sur Le Loir - Le Mans
Le Mans Tourist Information
Tel: 02 43 28 17 22
Don't miss
Le Mans - Parigné l'Evêque - Challes - Le Grand-Lucé