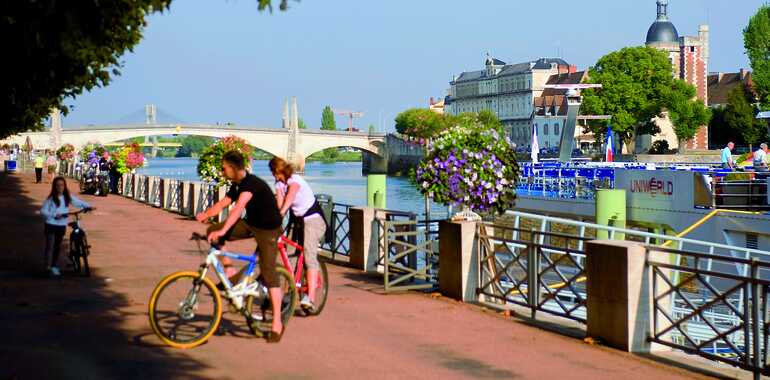 A pleasant and wild route between the Saône and the Doubs between Seurre and Verdun-sur-le-Doubs, where the waters meet. A stop in this charming little town to visit the park of the castle island. After crossing the river, the Voie Bleue offers visitors very picturesque landscapes of the banks of the Saône.
The route
From Allerey-sur-Saône and almost as far as Crissey, exclusive right bank route on good quality paved roads.
In Crissey, we join the main street (RD58) to enter Chalon-sur-Saône after crossing the Canal du Centre. Beware of traffic over 800m (no cycling facilities until the next roundabout).
We recommend reaching the town centre via the quays of Saône by following Av. Kennedy, then P. Nugues and de Bourgogne.
Tourist Offices
Butter: 03 88 96 44 08
Verdun-sur-le-Doubs : 03 85 91 87 52
Chalon-sur-Saône : 03 85 48 37 97
SNCF
TER Bourgogne, Seurre station, Chalon-sur-Saône
Buses
Cars Bucéphale (line 16 between Verdun-sur-le-Doubs and Chalon-sur-Saône)
Not to be missed
Seurre : Ecomusée l'Etang Rouge, church st-Martin (late 13th and early 14th), Hotel-Dieu
Verdun-sur-le-Doubs: confluence of the Doubs, Saône and Dheune rivers, house of wheat and bread, castle island (park)
Chalon-sur-Saône: classic facades of the quays of Saône, historical districts, cathedral st-Vincent, museums including that of the photo, island st-Laurent.
Markets
Seurre on Saturday, Verdun-sur-le-Doubs on Thursday, Chalon-sur-Saône,
every day except Monday