Partly using the great Loire à Vélo cycle route, this cycling circuit of 2 to 3 days takes you to the delights of the Sud Saumurois area, notably its startling caves hidden across the plain here. The village of Rochemenier conceals a museum on the subject, in subterranean farms. The cycling circuit guides you through countryside peppered with distinctive quarries, cellars, old farms and hamlets. From Saumur to Gennes, take in typically glorious Loire-side villages.
The route
This cycling circuit is signposted, taking you along small country roads with only light traffic. There are a few slopes to tackle. We advise you count at least 2 days to complete this circuit. 
 
Links
On the stretch between Saumur et Gennes, this circuit follows the route of La Loire à Vélo. At the town of Saumur, you can also link up with the Vélo Francette cycle route.
Railway station SNCF
Saumur station
Offices de Tourisme
Saumur
Tel : +332 41 40 20 60
saumur-tourisme.com
Doué-en-Anjou
Tél : +332 41 59 20 49
saumur-tourisme.com
Gennes-Val-de-Loire
Tel : +332 41 51 84 14
cc-gennois.fr/officedetourisme
They did it!
favorite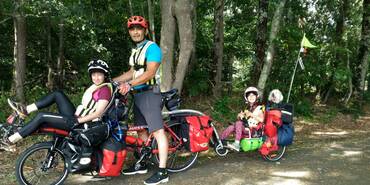 Ils sont 4 et partent en voyage en tandem + remorque en famille !
favorite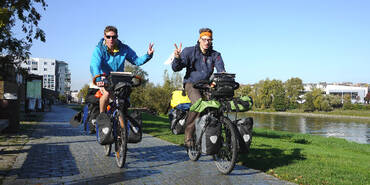 Le point de départ d'un tour du monde : la France et ses nombreux itinéraires !
favorite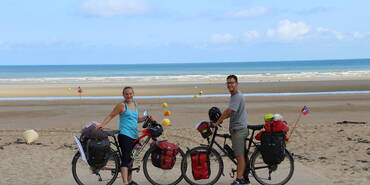 Une aventure de plusieurs mois de la France jusqu'à l'Allemagne