arrow_back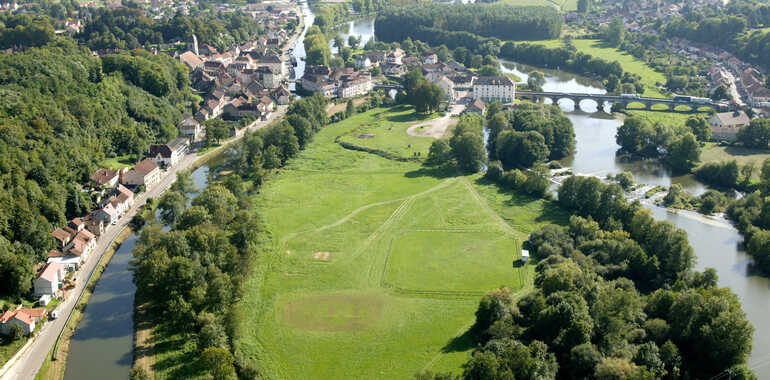 This stage of L'échappée bleue is exclusively along busy roads, plus it is very demanding, so it's not one to tackle as a family, but it is grandiose. Leaving Jussey, the descent is extremely steep, but the views of the surrounding hills are glorious. At Fouchécourt, take a break at the river port to admire the Saône River and to recharge your batteries before the ascent to Chargey-lès-Port.
The route
This route is exclusively on small county and local roads, and they are used by a fair number of lorries. Expect steep slopes leaving Jussey and climbing to Chargey-lès-Port.
Take care reaching the centre of town at Port-sur-Saône via the Nationale 9 road, as this major road is used by a lot of lorries and there are no special provisions in place for cyclists. However, a secure cycle path is going to be put in place, as well as a bypass.
L'échappée bleue (La Moselle-Saône à vélo) is signposted Charles le Téméraire for the time being, except for the link towards Port-sur-Saône.
Tourist office

Jussey Tourisme
Maison des services – Pré Jean Roche
70 500 Jussey
03 84 92 21 42
contact@jussey-tourisme.com
http://www.jussey-tourisme.com
Terres de Saône
73 rue François Mitterrand
70 170 Port-sur-Saône
03 84 78 10 66
tourisme.portsursaone@gmail.com
http://www.cc-terresdesaone.fr
Don't miss

Jussey: the corn exchange building; the washhouses; the spring; the range of shops; designated a Cité de Caractère (characterful little town) of the Bourgogne Franche-Comté Region
Gevigney-et-Mercey: the church
Fouchécourt: the river port
Chargey-lès-Port: the views down on the Saône
Port-sur-Saône: the river port; the range of shops