arrow_back
Travel by waterway has pride of place along this beautiful stretch of the Loire à Vélo. The highlight is Mantelot Lock by Châtillon-sur-Loire, where boats once gathered to cross the Loire, before the construction of the canal-bridge at nearby Briare. Lock and canal-bridge are both splendid constructions not to be missed. This section is easy, mainly on greenways.
Waytypes of the stage
By road: 9,35 km
Cycle path: 4,86 km
Surface of the stage
Inconnu: 0,39 km
Accidenté: 0,84 km
Lisse: 11,33 km
Rugueux: 1,65 km
Route
Choose between two routes from Beaulieu-sur-Loire to Châtillon-sur-Loire, one along the river's east bank, via Bonny-sur-Loire and Ousson-sur-Loire, the other via the west bank and the Ecluse de Mantelot, passing between the Loire and its parallel Canal Latéral.
Don't miss
Beaulieu-sur-Loire: extraordinary pyramidal barns; its section of the Canal Latéral à la Loire; the local vineyards
Bonny-sur-Loire: the fortified old town and St Aignan Church; its islands on the Loire
Ousson-sur-Loire: an historic village with picturesque lanes, plus the promenade beside the Loire
Châtillon-sur-Loire: once an important port along the Loire, with the beautiful Mantelot Lock set beside the river
Briare: its famed canal-bridge designed by Eiffel; its lively, appealing marina; the Musée des Deux Marines and Musée du Pont-Canal, dedicated to waterways; the Musée de la Mosaïque et des Emaux, plus the mosaics of St Etienne Church; the Château de Trousse-Barrière
Markets
Beaulieu-sur-Loire : Wednesday morning
Bonny-sur-Loire : Saturday morning
Tourist Information Centre
Belleville-sur-Loire : +33 (0)2 48 72 54 96
Beaulieu-sur-Loire : +33 (0)2 38 35 87 24
Bonny-sur-Loire : +33 (0)2 38 31 57 71
Did you like this?
You may also be interested in this...
They did it!
favorite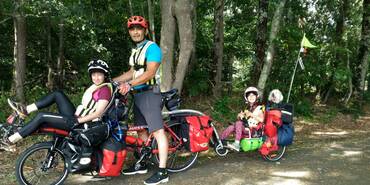 Ils sont 4 et partent en voyage en tandem + remorque en famille !
favorite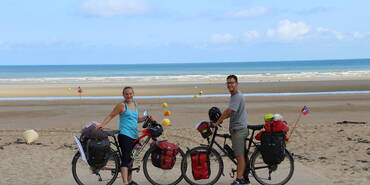 Une aventure de plusieurs mois de la France jusqu'à l'Allemagne