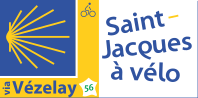 arrow_back
36,83 km cycling route from Saint-Amand-Montrond to Châteaumeillant
You're never far from water along the whole length of the Saint-Jacques à Vélo - Via Vézelay cycle route and even as you leave behind the old province of Berry's canals and locks, this stage proves no exception, numerous lakes dotted beside the trail. The cycling is easy through these parts, without any particular difficulties along the way. Calm and serenity are the order of the day as you ride through large fields, past big old farms. In the midst of these deeply rural landscapes so characteristic of the centre of France, discover local heritage and traditions by visiting the Musée de la Poterie in Les Archers or the Musée Michel Langlois nearby, the latter displaying an impressive collection of old craft tools.
Cycle route from Saint-Amand-Montrond to Châteaumeillant
Signposting is exemplary along this stage! Still, keep your eye out for the signs and make the most of the trail, specifically laid out to enable you to enjoy some of the attractions of the old province of the Berry. 
One tip: avoid the temptation to join the D951 road to gain a few minutes at best, as that road, while straight, isn't set up for cyclists' safety and lacks interest. 
Tourist information
SNCF train services
Please note, no train stations serve this stage until the town of La Souterraine, but, if you're willing to take a slight detour, there is a station at Eguzon-Chantôme
Don't miss
Le Châtelet: Puy-Ferrand Abbey, located at the top of a green promontory looking down on Le Châtelet, offering a fine example of Romanesque architecture in the province of Berry. Le Châtelet - les Archers: Musée de la Poterie, set in a potters' centre, telling the story of pottery and potters in the Berry
Saint-Jeanvrin: Musée Michel Langlois, a museum displaying an extraordinary collection of old craft tools
Châteaumeillant: Musée archéologique, plus the vestiges of the Oppidum de Mediolanum, established by ancient Gauls, then occupied by Gallo-Romans
Accommodation on the stage