6

Voir toutes les photos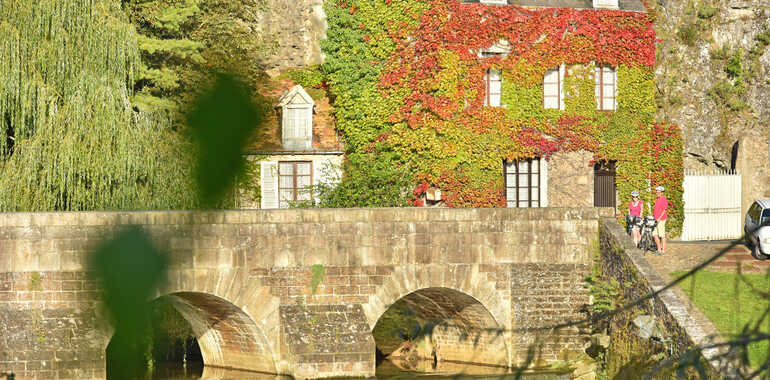 After Saint-Léonard-des-Bois the V44 cycle route takes you out of the hilly Alpes Mancelles to reach Fresnay-sur-Sarthe, a sweet little town designated a Petite Cité de Caractère, perched above the Sarthe River. After taking the time to stroll by bike through the alleys of Fresnay-sur-Sarthe, the itinerary walks through a green countryside. Beautiful viewpoint in Saint-Christophe-du-Jambet before to arrive at the pretty village of Beaumont-sur-Sarthe and its terraced gardens above the river.
The route
The route is along quiet roads, but steep slopes, notably after Saint-Léonard-des-Bois, mean there are some difficult stretches. The V44 cycle route is well signposted, taking you along county roads and quiet country lanes. Take care on the D 21 road leaving Fresnay-sur-Sarthe. After Saint-Aubin-de-Locquenay, be prepared for a steep slope lasting 1.5km.
Bus
TIS Network
Line 4 : Alençon → Fresnay sur Sarthe
Bikes are accespted
Tourist Information
Don't miss
Saint-Léonard-des-Bois - Fresnay sur Sarthe - Beaumont sur Sarthe
Markets
Fresnay sur Sarthe : Saturday morning, organic market place Thiers, every first sunday of the month from May to September
Beaumont sur Sarthe : Every tuesday morning at place des Halles. Every Friday morning at Beaumont sur Sarthe and Ségrie, local products, under the Halles