2

Voir toutes les photos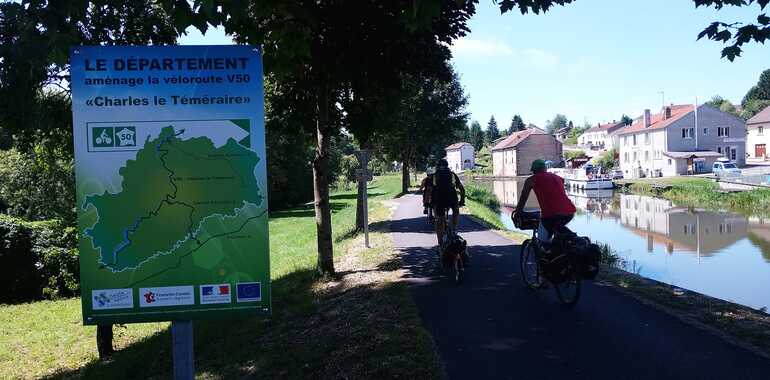 You're likely to see a lot of pleasure boats on the Canal des Vosges, making for relaxing, picturesque scenes. Stop to admire the swing bridge at Selles. This port is where the Moselle-Saône à Vélo and EuroVelo 6 cycle routes meet. At the level of Ormoy, the route first runs along beside the Saône before climbing gradually so that you dominate the river, following a small road towards Cendrecourt. Soon after, you arrive at Jussey, with its various services for cyclists.
The route

Along the Canal des Vosges, between Selles and Corre, the track is easy and separated from motorized traffic. Between Corre and Jussey there are some very hilly stretches, while between Ormoy and Cendrecourt, the way is technically demanding, what with the narrow track and steep slopes. Take special care on the D46 road linking Cendrecourt to Jussey.
At time of writing, this stretch is signposted Charles le Téméraire.

Link to EuroVelo 6  going from Selles

At the level of the swing bridge at Selles, a signposted linking route leads off via Luxeuil les Bains (37km away) to Belfort (98km away) and the Parc Naturel Régional des Ballons des Vosges.
Tourist office

Office de tourisme de Jussey
Maison des services – Pré Jean Roche
70 500 Jussey
03 84 92 21 42
contact@jussey-tourisme.com
http://www.jussey-tourisme.com

Don't miss

Selles: the port with its services; the hand-operated swing bridge
Corre: the port 
Jussey: the corn exchange building; the washhouses; the spring; the church; the range of shops; designated a Cité de Caractère (characterful little town) of the Bourgogne Franche-Comté Region
Passavant La Rochère: La Rochère hand-blown craft glass (6.5 km from Selles, reached via quiet little roads). This is the oldest hand-blown craft glass workshop in France (dating back to 1475) still in operation.