arrow_back
Seyssel / Chanaz / Belley ViaRhôna
This ViaRhôna stage goes along both banks of the Rhône. This route is provisional. It leads between crests and plateaux, through landscapes marked by lakes and waterfalls. Then you come to a land of vineyards and gastronomy set below the Bugey Range, passing delightful little historic stops like Belley, Culoz and Chanaz. This physically-demanding stage is along a mix of greenways and roads.
Elevation of the stage
Waytypes of the stage
By road: 11,73 km
Cycle path: 14,70 km
Provisional itinerary: 14,17 km
Surface of the stage
Inconnu: 13,07 km
Lisse: 13,36 km
The route
Leave Seyssel on a greenway. Between the Fier and Loi bridges, the D 991 and D 904 roads have lots of traffic and bends on which you must take extreme care. Then between Loi's bridge and Chanaz it's a mix of specially laid-out roads and greenways.
For families
- Culoz <> Chanaz: go via the train stations at Culoz or Chanaz-Vions.
- Belley <> île aux Oiseaux <> Barrage de Lavours: turn around to retrace your route at Lavours Dam. Parking spots to access this stretch: at Belley or l'île aux Oiseaux
Alternative options 
From Chanaz, there's a bike+boat link to reach Aix-les-Bains via Lac du Bourget. Prior reservation is essential. See Practical Information below.
Canal de Savières <> Lac du Bourget: taking the D18 road alongside the canal
Railway stations (SNCF) :
Culoz station :
TER (local services) Line 51 : Chambéry > Culoz > Geneva
TER (local services) Line 35 : Chambéry > Culoz > Ambérieu > Lyon
TER (local services) Line 03 : Geneva > Bellegarde > Lyon
Vion-Chanaz station :
TER (local services) Line 51 : Chambéry > Culoz > Geneva
>>Check TER timetables in Rhône-Alpes
Tourist Information Centres :
Don't miss :
Lavours : its marshes, declared a nature reserve in 1984, with a nature trail on raised boardwalks to allow you to appreciate this exceptional site to the full. 
Belley: a charming historic town with Roman roots. It's renowned as the birthplace of Brillat-Savarin, a ground-breaking writer on gastronomy who encouraged the area's culinary traditions.
Ruffieux: visit the prestigious Chautagne wine cellars here.
Chanaz: an enchanting village beside the Canal de Savières, offering an outdoor sports and recreation centre, cruises to Lac du Bourget, and tours of an historic walnut oil mill
Aix-les-Bains/Chambéry: reach the historic lake-side thermal spa town of Aix-les-Bains by boat from Chanaz; then a greenway, partly beside Lac du Bourget, leads south to Savoie's historic capital, Chambéry. Bikes are accepted on boats from Chanaz, but you must book in advance: +33 (0)4 79 63 45 00
Markets :
Culoz : Wednesday morning
Belley : Saturday morning
They did it!
favorite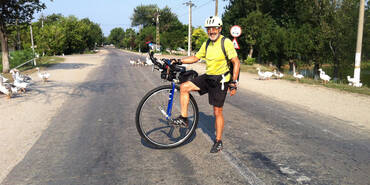 Hans Howald a parcouru l'intégralité de l'itinéraire ViaRhôna suivi du canal des 2 mers à vélo, le tout sur une roue !