arrow_back
22,81 km cycling route from Bordeaux to Créon
Leaving Bordeaux, after crossing the St-Jean Bridge, a cycle track that runs in part alongside the Garonne leads to Latresne, where you join the beautiful Roger Lapébie cycle track. It's named after the winner of the Tour de France in 1937 and is remarkably well laid out along a former railway line, with several dedicated stops in former railway stations. The way heads to Créon. This place, set around its arcaded central square, a remnant of a former bastide fortified town, is well worth a detour.
The route
Provisionally, the route starts from Bordeaux SNCF train station. Head down to the Pont St-Jean Bridge, accessible via a ramp, to cross the Garonne, whose east bank you then follow for a while. From Latresne, the Roger Lapébie cycle track is tarmacked, well-equipped and safe.
SNCF train stations
Bordeaux St-Jean train station:
TER regional trains and Intercités trains serve > Agen/Montauban/Toulouse/Carcassonne/Béziers/ Sète/ Montpellier/Marseille (numerous trains daily); Royan via Saintes (6 to 10 trains daily)
Further destinations served by rail from Bordeaux include: Le Verdon (Pointe de Grave); Angoulême/Poitiers/ Tours/Paris;  Niort/La Rochelle/ Nantes; Arcachon/Mont-de-Marsan/Dax/Bayonne/Biarritz/ Hendaye/ St-Sébastien
Buses
Bordeaux/Lacanau (line 702) - Tel +33 (0)9 74 50 00 33
Tourist offices
Accommodation on the stage
The best cycling holiday breaks
to make the most of this
They did it!
favorite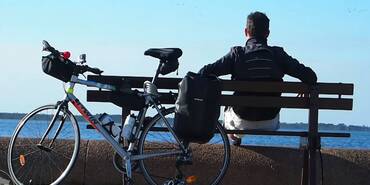 Julien vous raconte en images son périple à vélo entre Toulouse et Rennes le long du canal des 2 mers à vélo et de La Vélodyssée.