arrow_back
Canal des 2 Mers by bike - Atlantic / Mediterranean sea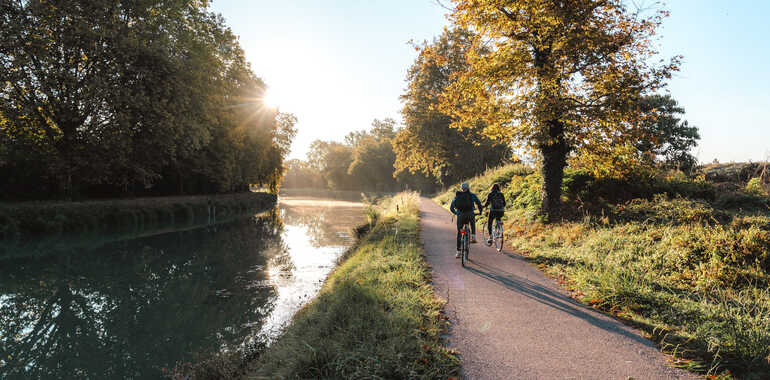 Discover the Canal des Deux Mers à Vélo, an exceptional cycle route linking the two seas of the Atlantic and the Mediterranean. You can pedal along for almost 800km beside the Canal de Garonne and the Canal du Midi, the latter a World Heritage Site, to explore unforgettable landscapes and sites.
Signposting and state of the itinerary
The Canal des 2 Mers by bike is set up on 3/4 of the itinerary (73% finished). 
The route is developped mostly on designated lanes for bicycles and other non-motorized vehicles (58%).
Services and accomodations "Accueil Vélo" ("Cyclists Welcome") on the Canal des 2 Mers by bike
More than 160 accomodations (campings, hotels, lodges, guest houses) "Accueil Vélo" ("Cyclists Welcome") are located at less than 5km away from the itinerary and they guarantee quality services for cyclists such as a closed garage for example. We strongly advise to book your accomodations in advance (including campings), especially in touristic areas.
Trains and public transports alongside the Canal des 2 Mers by bike
The itinerary is well served with trains, although you need to be careful during peak periods when bicycle transports can become complicated in TER. 
Lines "Intercités" Bordeaux - Toulouse - Marseille :
Stop at : Agen / Montauban / Toulouse / Carcassonne / Béziers / Sète / Montpellier / Marseille (several daily trains)
Lines TER Bordeaux - Agen - Toulouse (see schedule) : 
Stop at : Valence-d'Agen / Moissac / Castelsarrasin / Montauban / Castelnau-d'Estrétefonds
Lines TER Bordeaux - Marmande - Agen (see schedule) :
Stop at : La Réole, Marmande, Tonneins, Aiguillon Lot-et-Garonne
Long-time parkings on the itinerary
The best cycling holiday breaks
to make the most of this