arrow_back
34,40 km cycling route from Moissac to Montauban
The Canal des 2 Mers à Vélo cycle route leaves Moissac via the Pont-canal du Cacor, a remarkable canal-bridge. Not long after, you reach a business park at the entrance to Castelsarrasin, an historic fortified town in the County of Toulouse. From its marina, you can head into the old centre that witnessed many turbulent times, but that has preserved many fine public spaces and buildings, including the imposing St-Sauveur Church, built of fine brick.
Waytypes of the stage
Cycle path: 32,79 km
By road: 1,61 km
The route
The towpath leads you without any difficulties right up to Montech port. Just before the latter, do go and take a good look at the extraordinary sloping lock where curious old locomotive engines slumber.
SNCF train stations
Moissac train station :
TER regional trains > Agen ; Castelsarrasin/Montauban/Toulouse (4 to 8 trains daily)
Castelsarrasin train station:
TER regional trains serve > Moissac/Agen ; Montauban/Toulouse (4 à 8 trains daily)
Montauban train station:
TER regional trains and Intercités trains serve > Agen/Bordeaux ; Toulouse/Carcassonne/ Narbonne/ Béziers/Sète/Montpellier
Other connection from Montauban : Cahors/Brive/Limoges/Paris.
Tourist offices
Accommodation on the stage
They did it!
favorite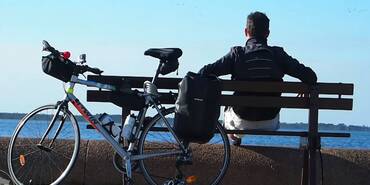 Julien vous raconte en images son périple à vélo entre Toulouse et Rennes le long du canal des 2 mers à vélo et de La Vélodyssée.