arrow_back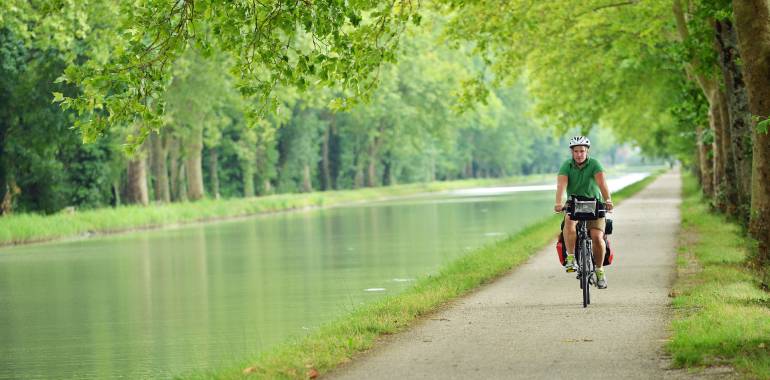 The cycle route joins the Canal de Garonne close to the startling Musée de l'Allumette (Match Museum) at Fontet. This place's port and outdoors recreation centre make it a great spot to stop before starting out on the greenway beside the canal. This stage is calm, but the perched village of Meilhan-sur-Garonne draws you up to it for fabulous views. For a further short detour, visit the town of Marmande, which conceals some surprises.
Waytypes of the stage
By road: 3,13 km
Cycle path: 18,39 km
Provisional itinerary: 3,08 km
Surface of the stage
Lisse: 8,63 km
Inconnu: 12,89 km
The route
Part of this stage is shared with motorized traffic, going on small roads from La Réole to Pont Berrat. Then you join the well laid-out, signposted greenway along the Canal de Garonne.
Off the route
To reach the town of Marmande there are two options: from Pont-des-Sables, following the signposted cycle track alongside the very busy D 933 road for 6km; or, from Pont-de-Fourques, 2km further on, follow quiet roads with very little traffic that take you back close to the Garonne River, which you then have to cross via the D 933 road to reach the centre of Marmande – count 7km in all for this second option.
SNCF train stations
La Réole train station:
TER > Langon/Bordeaux (6 to 10 trains daily) ; Agen (5 to 8 trains daily)
Marmande train station:
ER regional trains and Intercités trains serve > La Réole/Bordeaux; Agen (many trains daily)
Connection from Agen to Montauban/Toulouse/Montpellier/Marseille
Tourist offices