arrow_back
This is a major additional stage that comes highly recommended. It leads you towards the city of Narbonne via a short stretch alongside a linking canal up to Sallèles-d'Aude. Then, given the lack of other options to cross the river, you need to continue via Cuxac-d'Aude along a road shared with motorized traffic to reach the Canal de la Robine at Raonel Lock. From there, a lovely, well-laid-out, signposted greenway leads to Narbonne itself.
Elevation of the stage
Waytypes of the stage
Cycle path: 8,84 km
By road: 7,43 km
Provisional itinerary: 19,19 km
Surface of the stage
Inconnu: 2,92 km
Rugueux: 2,81 km
Lisse: 13,45 km
The route
The route is not signposted along the linking canal.
At Sallèles-d'Aude, join the D 1118 road up to Cuxac d'Aude, followed by the D 13, to reach the Canal de la Robine at Raonel Lock. From there, the route is laid out and signposted right up to the centre of Narbonne.
SNCF train stations
Narbonne train station:
TER regional trains and Intercités trains serve > Carcassonne/Castelnaudary/Toulouse/Bordeaux; Béziers/Agde/ Sète/Montpellier (6 to 10 trains daily); Avignon/Marseille (3 to 4 trains daily)
Connections at Montpellier for Lyon/Paris; Nîmes/Alès/Clermont-Ferrand.
Tourist offices
They did it!
favorite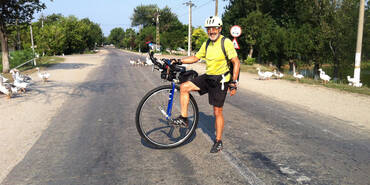 Hans Howald a parcouru l'intégralité de l'itinéraire ViaRhôna suivi du canal des 2 mers à vélo, le tout sur une roue !