arrow_back
EuroVelo 15 - The Rhine Cycle Route in Alsace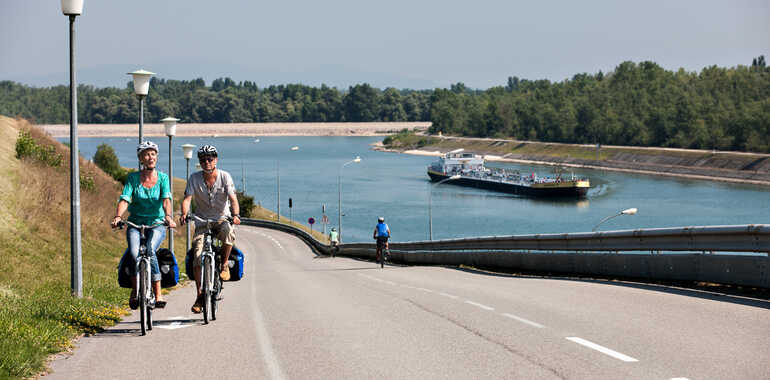 The Rhine Véloroute, EuroVelo 15, links the Rhine's source in Switzerland to its North Sea estuary in Holland. The route runs close to the great river for over 1,320km. The part in the French region of Alsace covers c.180km, from Huningue, near Swiss Basel, to Lauterbourg. It mostly runs beside the Canal du Rhône au Rhin, but in parts runs by the Rhine itself, frontier and link between France and Germany. Discover UNESCO World Heritage Sites like Alsace's historic capital, Strasbourg, or Neuf-Brisach, its citadel designed by Louis XIV's military genius, Vauban. Enjoy Alsace's romantic Rhine side.
Signposting and state of the itinerary
The EuroVelo 15 - Rhine Veloroute in Alsace is entirely marked in both sides. Its logo is indicated on road signs.
More than half of the itinerary (57%) is rideable on designated lanes for cyclists and other non-motorized persons.
Bicycle renting alongside EuroVelo 15 in Alsace
Bike shop in St-Louis, Village-Neuf, Kembs
Bicycle and Electrical Bicycle renting in Rosenau (Rhin et Découverte), Village-Neuf.
Bicycle and Electrical Bicycle renting in Neuf-Brisach
Bike shops in Marckolsheim, Wittisheim, Friesenheim, Rhinau, Erstein, Plobsheim, Illkirch-Graffenstaden, Strasbourg
Bike shops in Gambsheim, Drusenheim, bac de Seltz
Trains and public transports alongside EuroVelo 15 in Alsace
TER Alsace : Train station CFF in Bâle, train station of Habsheim, Rixheim
Train station of St-Louis, Bartenheim, Sierentz
Train station of Sélestat
Train station of Erstein
Train station of Strasbourg
Parkings longue durée