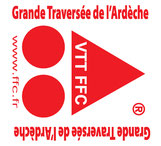 arrow_back
In forest, Nature & small heritage
Small gear changes enable you to enjoy the grand landscapes here, as the Ardèche Mountains offer mountain bikers a treat, crossing heaths where heather and broom thrive. Admire the unique volcanic landscapes, marked by sucs, phonolithic ancient volcanoes in the form of sugar loafs. At the iconic Mont Gerbier de Jonc, a sentinel made from dark lava, you might fill your water bottle at the spot where the Loire's first waters spring up.
Alternating between woods and undulating wide prairies, you next arrive at Mazan-l'Abbaye, before racing on to Lanarce, first via a very steep slope lined with broom, then via broader trails.
La Grande Traversée de l'Ardèche by MTB from Les Estables to Lanarce
The route is signposted "Grande Traversée de l'Ardèche VTT"
At the Croix de Montouse, you leave the GR7 hiking trail to follow, to the left, the GR73 trail, leading you to the Mont Gerbier de Jonc and then, lower down, Sagnes-et-Goudoulet.
After Ferrand Lake, you get off the GR7 once again to reach Saint-Cirgues-en-Montagne.
Don't miss
Borée / La Rochette: Mont Mézenc, an iconic summit
Le Béage: De l'Autre Côté by Stéphane Thidet (part of the art trail, Le Partage des Eaux – The Watershed)
Le Mont Gerbier de Jonc (you can climb to the summit by foot); the Maison de Site with 1020 KM by Olivier Leroi (part of the art trail, Le Partage des Eaux)
Sainte-Eulalie: La Ferme de Clastres, a traditional farm being renovated to create a visitor centre
Sagnes-et-Goudoulet : La Ferme de Bourlatier, a traditional farm you can visit; La Tour à Eau by Gilles Clément (part of the art trail, Le Partage des Eaux)
Mazan l'Abbaye: Un Cercle et Mille Fragments by Felice Varini (part of the art trail, Le Partage des Eaux)