arrow_back
Grande Traversée de l'Ardèche by mountain bike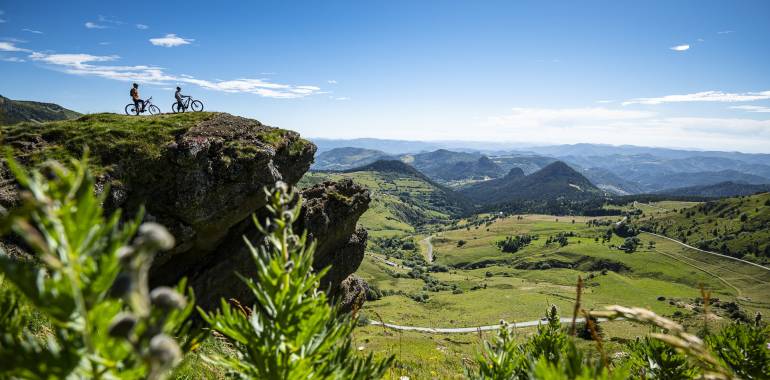 High on the heights in the eastern foothills of the Massif Central Range is where your cycling adventure on the GTA VTT (or GTA by MTB) begins, leading you to the border between the counties (départements) of Ardèche and Haute-Loire. You then plunge into the winding trails of the Montagne Ardéchoise, this rugged terrain now appreciated for its unspoilt appeal and sense of freedom. Further south, you slip into the Ardèche Cévenole, finishing in southern Ardèche (or Ardèche Méridionale), the most reputed area of the county, given the very many treasures it contains.
Riding down through the Parc Naturel Régional des Monts d'Ardèche, appreciate the vast expanses as you head first for the Monts Mézenc and Gerbier de Jonc, then down the Tanargue Range, and on through the Bois de Païolive woods and the Gorges de l'Ardèche. You end by cycling through slopes covered in vineyards and orchards to reach the banks of the Rhône.
315km through the heart of the Ardèche on the GTA VTT / GTA by MTB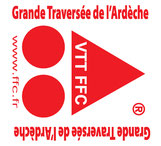 Signposting and layout on the GTA VTT
The Grande Traversée de l'Ardèche VTT connects Annonay in the north to Bourg-Saint-Andéol in the south, on a mountain-biking route over 315km in length. It's signposted going north > south.
This cycle route is really geared to mountain bikes (VTT in French) and elecric mountain bikes (VTT-AE in French).
For most of the way, it follows French national hiking trails (the GR4 and GR7)
You might tackle this route in three separate portions:
Annonay - Devesset - Les Estables (102km)
Les Estables - Borne - Les Vans (126km)
Les Vans - Vallon-Pont-d'Arc - Bourg-Saint-Andéol (86km).
For seasoned mountain bikers, you could divide the route into seven stages, with a stopover at the end of each day.
Please note, there's a second starting point for those after more of a sporting challenge, going from Saint-Félicien to reach Saint-Agrève, passing via Devesset, an alternative route of 50km.
(See the route map for GTA VTT)
The Grande Traversée de l'Ardèche by mountain bike, a Vélo & Fromages (Cycling and Cheese) route
Whether cycling as a family, by yourself, among friends, or as a group of foodies, Vélo & fromages allows you to cycle along, at your own pace, seeking out the Ardèche's culinary delights. This route focuses on restaurants, farms, markets and cheese events that put fromage to the fore! Tastings are on the cards of course. (See the dedicated sheet)
Trains and stations to get on to the GTA VTT
St-Vallier-sur-Rhône: the closest train station to the town of Annonay (23km away) – see route
Regional TER line Lyon / Avignon, spaces for bikes available at no extra charge
Pierrelatte: the closest train station to the town of Bourg-Saint-Andeol (6km away) – see route
Regional TER line Lyon / Avignon, spaces for bikes available at no extra charge
Cycle routes linked to the Grande Traversée de l'Ardèche by mountain bike
Via Fluvia (shared portion from Annonay to the place named Les Seux - Boulieu-lès-Annonay)
Dolce Via (connection at Saint-Agrève)
ViaRhôna (connection at Bourg-Saint-Andéol)
Further mountain-bike (VTT) cycle routes to discover via our website: