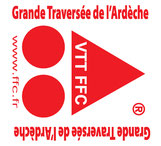 arrow_back
In the vineyards, Nature & small heritage
51,31 km cycling route from Vallon-Pont-d'Arc to Bourg-Saint-Andéol
Once past Salavas, enjoy unrivalled views over the Ardèche Valley on this final stage of the Grande Traversée de l'Ardèche VTT. Apart from the odd vine, the vast, wild limestone plateau here is only suitable for scrub. Its true riches lie hidden underground. Here, you're in the Pays des Avens, an area where vast caverns lurk just under the surface! Crossing Ronze Wood, with all its holm oaks, you reach La Grande Lauze, an immense limestone slab.
Next, you can ride easily along to the village of Aiguèze via the GR4 trail. Finally, you reach the Rhône Valley and the Ardèche border, riding through vineyards and orchards to get to riverside Bourg-Saint-Andéol, a town boasting an extraordinary architectural legacy.
La Grande Traversée de l'Ardèche by MTB from Vallon-Pont-d'Arc to Bourg-Saint-Andéol
Route signposted "Grande Traversée de l'Ardèche VTT"
At the crossroads where you leave the GR4B trail, you then join the GR4 for over 10km.
Don't miss
Vallon Pont d'Arc: the Grotte Chauvet 2-Ardèche, with reproductions of prehistoric paintings; the natural stone bridge of Le Pont d'Arc; the Ardèche Gorges
Labastide de Virac: the Château des Roure
Orgnac l'Aven: the Aven d'Orgnac, designated a Grand Site de France, and its Cité de la Préhistoire
Aiguèze: a member of the association Les Plus Beaux Villages de France
Saint-Martin d'Ardèche: Sauze Beach and river bathing
Saint-Marcel d'Ardèche: a string of three remarkable Romanesque chapels (Saint-Sulpice, Saint-Joseph and Saint-Julien) in the midst of vineyards, this stretch designated 'Vignobles & Découvertes'
Bourg-Saint-Andéol: Saint-Ferréol Chapel; the washhouse and re-emergence of springs along the Vallon de Tourne; the Bishops' Palace 
Accommodation on the stage