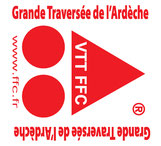 arrow_back
In forest, Nature & small heritage
From Les Vans, cycle along to the Bois de Païolive, a magical place scattered with boulders that look like natural sculptures, given evocative names such as 'The Bear', 'The Lion' or 'The Elephant'! Take things easier crossing the Jalès Plain up to Font Vive Spring, river waters emerging dramatically out of the rocks here. Then the route becomes more challenging to reach the Col de la Cize pass, the reward magnificent views, before you plunge down to Salavas to reach Vallon-Pont-d'Arc, gateway to the Ardèche Gorges.
La Grande Traversée de l'Ardèche by MTB from Les Vans to Vallon-Pont-d'Arc
The route is signposted "Grande Traversée de l'Ardèche VTT"
Follow the GR4 up to Le Plot de la Molle, then, heading due south, you have a long, difficult climb, despite a few flat stretches, to reach the Col de la Cize. After this, your descent begins with a technically challenging, rocky path, but this is soon replaced by a trail, then an earth track, and finally by a tarmacked way taking you to Salavas.
Don't miss
Les Vans: the Bois de Païolive woods, dotted with boulders; Sainte-Eugène Hermitage.
Berrias-et-Casteljau: the Chassezac Gorges; Jalès Templar Commanderie, or fortified centre
Grospierres: the river re-emergence of Font Vive