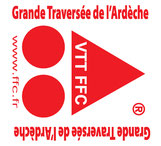 arrow_back
In forest, Nature & small heritage
Reaching an old Roman road, this cross-country stage joins the Corniche du Vivarais Cévenol, offering very marked contrasts in landscapes. The sudden slopes are so brutally steep that you don't so much descend from the plateau as fall off it! Leaving the magnificent Thines Valley with its magical perched village to the right, you plunge into woods that alternate between pine and chestnut trees. You cross tiny hamlets with stone houses topped by stone roofs. After a long stretch through woods, dotted with the odd clearing, the Grande Traversée de l'Ardèche VTT reaches Les Vans, a town ideal for a stopover.
La Grande Traversée de l'Ardèche by MTB from Montselgues to Les Vans
The trail is signposted "Grande Traversée de l'Ardèche VTT"
At the outset, you head due north for less daunting slopes (GR4). At the Col de la Croix Blanche pass, you start following the GR de Pays Le Cévenol for a few hundred metres to reach Peyre, before plunging down the slope to reach Les Vans.
Don't miss
Malarce-sur-la-Thines: Thines hamlet and its church 
Naves: reach this characterful village by mountain bike, cycling up the calade, a steep cobbled street
Les Vans: its typical Cévennes market held on Saturday mornings