arrow_back
Canals & intimate rivers, Castles & Monuments
28,16 km cycling route from Gien to Sully-sur-Loire
This Loire à Vélo stage runs in part beside the Loire. Here, you reach the eastern end of the stretch of the Loire Valley designated a UNESCO World Heritage Site. The medieval Château de Sully provides a brilliant introduction, guarding the river, surveying cylists as they pass by. Several stretches of the route are along roads, with some significant slopes.
Waytypes of the stage
Cycle path: 0,04 km
By road: 28,12 km
Surface of the stage
Lisse: 28,00 km
Inconnu: 0,16 km
Route
Following the Loire's south bank from Gien, at St-Gondon, take the direction indicated « St-Florent », via the D 54 road. After Lion-en-Sullias, get onto the raised Loire-side levée up to Sully-sur-Loire. Be aware of motorized traffic along this stage.
Railway station - SNCF
Gien train station. On the Intercité line serving Paris > > Cosne > Nevers, with spaces for bikes, but you must reserve in advance.
Don't miss
Gien: its historic stone bridge; its grand brick château, housing a fine hunting museum; the Gien pottery
St-Gondon: an ancient village with many historic vestiges: a feudal castle with its ramparts; a Romanesque church; the St Gondon fountain; an old washhouse ; a neolithic menhir
Sully-sur-Loire: a charming little riverside town, with its medieval-to-classical moated castle, its collegiate church and St Germain Church, which long served the Loire mariners here.
Markets
Gien : Wednesday and Saturday morning
Sully-sur-Loire : Monday afternoon
Tourist Information Centre
Gien : +33(0)2 38 67 25 28
Sully-sur-Loire : +33(0)2 38 36 23 70
Accommodation on the stage
Did you like this?
You may also be interested in this...
They did it!
favorite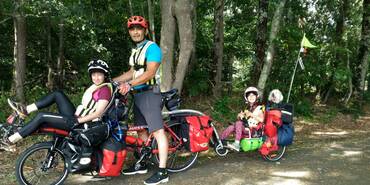 Ils sont 4 et partent en voyage en tandem + remorque en famille !
favorite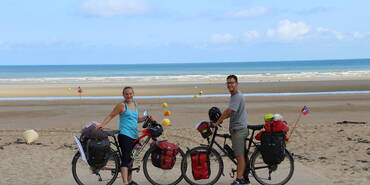 Une aventure de plusieurs mois de la France jusqu'à l'Allemagne