arrow_back
Canals & intimate rivers, Castles & Monuments
15,87 km cycling route from Sully-sur-Loire to Germiny-des-Prés
Leaving the superb Château de Sully-sur-Loire behind, this Loire à Vélo stage follows the great meanders in the Loire to the city of Orléans. Glorious, calm halts here include the magnificent Abbey of St-Benoît-sur-Loire and the ancient church at Germigny-des-Prés. This is an easy stage, mainly on greenways.
Waytypes of the stage
Cycle path: 0,14 km
By road: 14,81 km
Surface of the stage
Lisse: 14,81 km
Accidenté: 0,15 km
Route
Take particular care crossing the bridge at Sully-sur-Loire. The route alternates between cycle paths and quiet roads.
Train station - SNCF
Note that there are no train services between Sully and Orléans.
Don't miss
Sully-sur-Loire: a charming little riverside town, with its medieval-to-classical moated castle, its collegiate church and St Germain Church, which long served the Loire mariners here.
St-Benoît-sur-Loire: its magnificent Romanesque abbey is still home to a monastic community, but parts can be visited, including on guided tours
Germigny-des-Prés: its church dates back to Charlemagne's period and has a magnificent period mosaic, plus the Musée de la Grange Germignonne next door explains more.
Markets
Sully-sur-Loire : Monday afternoon
Tourist Information Centre
Sully-sur-Loire : +33 (0)2 38 36 23 70
St-Benoît-sur-Loire : +33 (0)2 38 35 79 00
Accommodation on the stage
Did you like this?
You may also be interested in this...
They did it!
favorite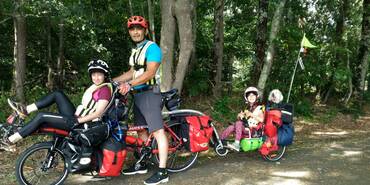 Ils sont 4 et partent en voyage en tandem + remorque en famille !
favorite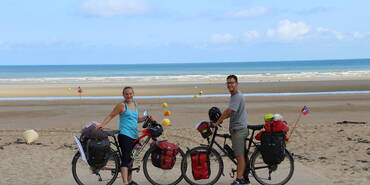 Une aventure de plusieurs mois de la France jusqu'à l'Allemagne