arrow_back
20,03 km cycling route from Montalivet-les-Bains to Hourtin-Plage
From Montalivet to Naujac (apart from a large chicane and a gentle bend) you can ride on autopilot on this part of La Vélodyssée as you breathe in the scent of the pine trees – there is very little chance of getting lost here: head directly south through the Flamand national forest. The Côte d'Argent truly is the kingdom of cycle lanes. La Vélodyssée follows the central path to meet Hourtin via the forest. The surrounding area offers numerous choices of where you can stop for a refreshing splash in one of the vast lakes, one of which is Hourtin - the largest in France!
Waytypes of the stage
Cycle path: 19,41 km
By road: 0,62 km
Itinerary 
Cycle lanes with easy-going surfaces.  You are continuously riding along designated lanes, with the regular fire-guards marking a rhythm to your day's journey.
Connections
Numerous opportunities to rejoin the coastline or visit the lake via interchangeable cycle lanes; the beach at Hourtin is very well signposted, right from the beginning of the main route.
Accommodation on the stage
They did it!
favorite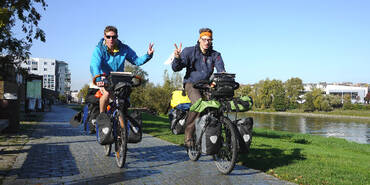 Le point de départ d'un tour du monde : la France et ses nombreux itinéraires !