arrow_back
La Vélodyssée, the Atlantic Cycling Route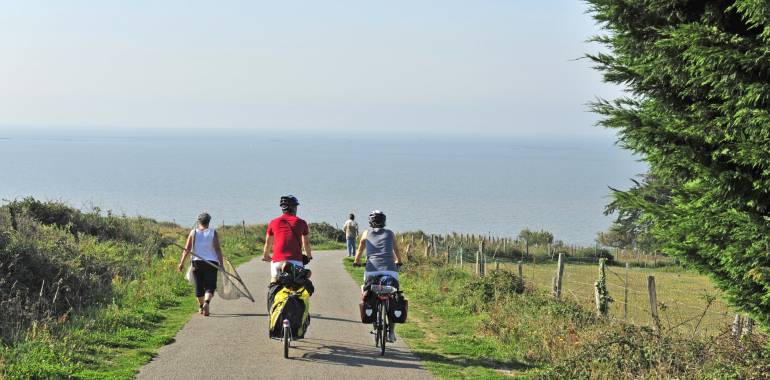 Whether you're looking for a challenge or a leisurely cycle ride, La Vélodyssée has something for everyone. Get on your bike and experience the wild beauty of a cycle route covering more than 1,200 kilometres from Brittany down the Atlantic coast to the border with Spain. The sea is never very far away as you discover the best each region has to offer along France's longest waymarked cycle trail. With our interactive maps and recommendations of the most suitable places for cyclists to stay, you can plan your very own La Vélodyssée in advance or just take off on the spur of the moment. You'll find special offers, our pick of the best attractions to visit and reviews by those who've done the route. A voyage of discovery awaits you!
Signposting and state of the itinerary
The Vélodyssée / EuroVelo 1 is entirely marked with road signs on both sides from North to South. The Vélodyssée logo is accompanied with its EuroVelo 1 ID.
Itinerary mainly developped on securised lanes. Some difficulties can be faced on the end of the itinerary between Bayonne and Hendaye (roads sections, some ups and downs).
Services and accomodations "Accueil Vélo" ("Cyclists Welcome") on The Vélodyssée
Nearly 430 accomodations (campings, hotels, lodges, guest houses) "Accueil Vélo" ("Cyclists Welcome") are located at less than 5km away from the itinerary and they guarantee quality services for cyclists such as a closed garage for example. We strongly advise to book your accomodations in advance (including campings), especially in touristic areas.
Climate
The itinerary can be ridden in good conditions form spring to autumn. The towpath alongside the Nantes to Brest canal can be a little trickier in case of important rain. West wind often present.
Trains and public transports alongside The Vélodyssée
⚠ Nantes-La Rochelle line closed: Complete refurbishment of the line, Intercity trains between Bordeaux and Nantes will be limited to Bordeaux-La Rochelle. Substitute coaches will be provided between La Rochelle-Nantes but will not be able to carry bicycles.
The itinerary is well served with trains, although you need to be careful during peak periods when bicycle transports can become complicated in TER. 
TER between Nantes et Roscoff
Intercité between Nantes et Bordeux
TER between Bordeaux and Le Verdon-sur-mer
TER between Bordeaux > Arcachon > Biarritz > Hendaye
Ferry crossing between Royan and Le Verdon
Long-time parkings on The Velodyssée
The best cycling holiday breaks
to make the most of this