arrow_back
16,25 km cycling route from Bayonne to Biarritz
La Vélodyssée now heading north, advances to a few hundred yards from the Côte d'Argent, gradually getting closer to Moliets-et-Mâa and Messanges. The route finally meets the powerful ocean at Vieux-Boucau, the former port (until the river Adour was re-routed to Bayonne in 1578) and today a very pleasant stopping point.
Waytypes of the stage
Cycle path: 11,08 km
By road: 5,57 km
Itinerary
Good cycle lanes from Bayonne to Anglet, despite being a little narrow, even out of season.  Shared lanes while crossing Biarritz.  In Biarritz, bicycles and cyclists aren't well catered for, hence the one-way system along the shoreline...  If you are following the Vélodyssée from south to north, do this loop anyway.  There are several hills to contend with.
Connection
The connection towards Biarritz station is on a steep incline.
Accommodation on the stage
They did it!
favorite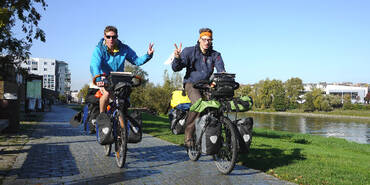 Le point de départ d'un tour du monde : la France et ses nombreux itinéraires !