arrow_back
50,72 km cycling route from La Rochelle to Rochefort
As the famous towers which defend the port of La Rochelle hove into view, a cycle path section takes us to the Port of Minimes, then onto the Cove of Godechaud, right next to the sea. The delightful Bay of Châtelaillon now comes into sight and offers weary cyclists a very pleasant stopping point. After the Bay of Châtelaillon comes a pretty seaside section before heading back inland towards the 'royal city' of Rochefort. While the middle section of this route might appear somewhat commonplace, the remarkable town of Rochefort is well worth exploring.
Elevation of the stage
Waytypes of the stage
Cycle path: 33,29 km
By road: 18,47 km
Surface of the stage
Lisse: 45,02 km
Rugueux: 6,74 km
Itinerary
From La Rochelle to Châtelaillon, easy going on the majority of the cycle paths, often near the sea.  Access to various beaches: La Rochelle, Aytré, Châtelaillon.
To Châtelaillon, follow a seafront path for several kilometres.  Exercise caution on the entrance to the city centre as the lanes are shared with cars.  The majority of the following section is on cycle lanes which runs through La route départementale 110 (D110) until it reaches the outskirts of Rochefort.  At Rochefort the lanes are shared by general traffic but this is a very pleasant stage to take a break. 
Alternative towards Fouras - on a cycle path and a very quiet road.
Accommodation on the stage
The best cycling holiday breaks
to make the most of this
They did it!
favorite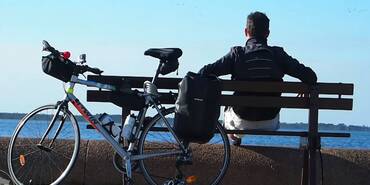 Julien vous raconte en images son périple à vélo entre Toulouse et Rennes le long du canal des 2 mers à vélo et de La Vélodyssée.
favorite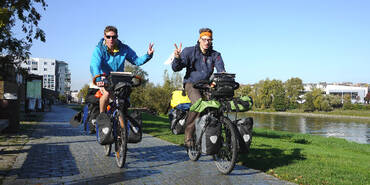 Le point de départ d'un tour du monde : la France et ses nombreux itinéraires !