arrow_back
30,36 km cycling route from Roscoff to Morlaix
After leaving the old port enjoy a stage filled with scents from the fields of early fruits and vegetables in the Pays Léonard. A great variety of views can be enjoyed as you pass along the little lanes and managed trails, which take La Vélodyssée as far as Morlaix.
Waytypes of the stage
Cycle path: 1,75 km
By road: 28,61 km
Surface of the stage
Lisse: 28,98 km
Rugueux: 1,38 km
Itinerary
From the old port, the route is shared with Veloroute 7 (Roscoff > Concarneau).  You'll find signposts at the Auxerre Quay intersection and the Rue Jeanne d'Arc.  The route heads towards the historic fort at la pointe du Bloscon.  Several parts are shared with the footpath.  We then follow the train track on the Pen Ar Creac'h pathway after turning right onto the Rue de Gourvennec.  At the Rue de la Grande Grève, turn right… unless you wish to discover the beach - there is a large one at Trofeunteun.  Take care when crossing the D 58 at the Corde Bridge.  Take the D 769 between Lanvéguen and Penzé.
Accommodation on the stage
Did you like this?
You may also be interested in this...
They did it!
favorite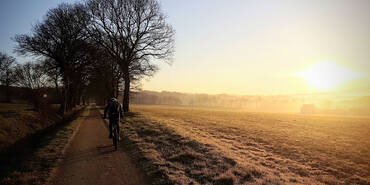 Une épopée sportive de 3 jours en gravel sur La Vélodyssée