arrow_back
20,81 km cycling route from Saint-Jean-de-Luz to Hendaye-Plage
Final stage of La Vélodyssée before reaching the Spanish border and the rhythm of the Bolero. After St-Jean-de-Luz and Ciboure, comes a glorious end to the course with a route over the Corniche de Socoa cliffs, which from the Fort to the Pointe Ste-Anne promontory offers panoramic views stretching over the Golfe de Gascogne.
Waytypes of the stage
Cycle path: 15,84 km
By road: 5,12 km
Itinerary
Between St-Jean-de-Luz and Hendaye, the route is shared all the way, sometimes with heavy traffic - as on the way out of St-Jean. The descent into Hendaye takes you right down to the beach and joins a well-surfaced cycle lane which goes past the port and Bay of Chingoudy.  The cycle route, which is planned up to Behobie on the Spanish border, currently stops before the marshalling yard and presents several obstacles: steep stope and stairs.  Cycle lanes are currently being constructed.
Connections
Today the international station and Spanish border are only accessible via the N111, which carries very heavy traffic, so it's not advisable to tackle the route by bike.  If you take the train from the Hendaye-Plage station, this will help you navigate this obstacle.
Accommodation on the stage
They did it!
favorite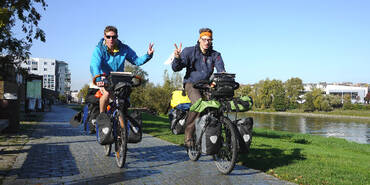 Le point de départ d'un tour du monde : la France et ses nombreux itinéraires !