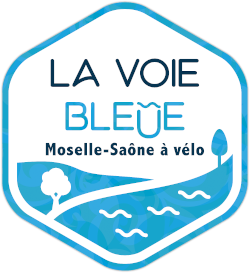 arrow_back
After Charmes, La Voie Bleue meanders along a magnificent greenway beside the Canal des Vosges. Vestiges of the area's industrial textile heritage are clearly visible along this stage, notably with the former Nomexy textile mill, built in red brick, and the impressive Rotonde de Thaon-les-Vosges, built for workers to relax in. A peaceful path leads to the port at Épinal, known in France as the 'Cité de l'Image', because of its tradition of producing popular images of French life, its museum containing the largest collection of such illustrations in the country.
Waytypes of the stage
Cycle path: 26,50 km
By road: 0,61 km
Surface of the stage
Lisse: 24,47 km
Rugueux: 2,61 km
The route
The way is entirely along a well-laid-out, well-signposted greenway following the Canal des Vosges. At the level of Golbey, there's a link along the canal to reach the centre of Épinal.
Link
From Épinal, there's a signposted link to the Hautes Vosges greenway and the source of the Moselle. (From the port at Épinal, follow the signposts for 'Remiremont' and the 'Voie Verte des Hautes Vosges'.)
SNCF (French national railways network)
TER Line Nancy <> Varangéville - Saint-Nicolas <> Blainville - Damelevières <> Bayon <> Charmes <> Épinal
Don't miss
Charmes: Wild Moselle, bird and beaver watching
Chatel sur Moselle: Fortress of the 10th century, the most important in Lorraine, can be visited by reservation.
Thaon les Vosges: La Rotonde, a theatre with an astonishing architecture.
Épinal: Image Museum, the Castle and its park, Museum of Ancient and Contemporary Art, Saint Maurice Basilica, Planetarium, SpinaParc.
Accommodation on the stage