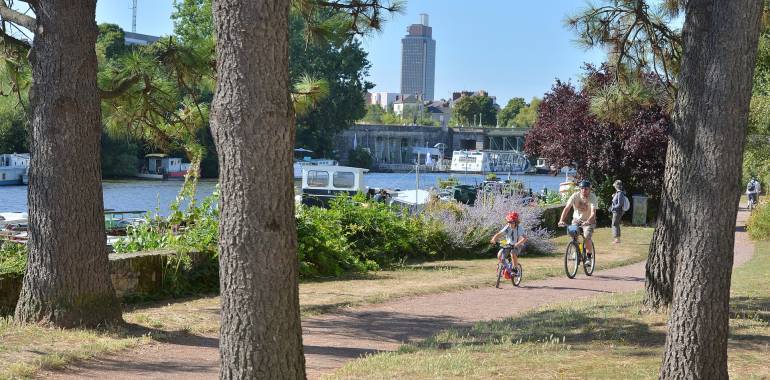 On this cycling excursion, discover the River Erdre's peaceful wooded banks just north from Nantes. It's possible to make use of the signposting for the Vélodyssée route already set up between Nantes and Sucé-sur-Erdre. This outing is suitable for families. The track follows the river's many curves up to the centre of the town of Sucé-sur-Erdre with its river-port, which it's fun to wander round.
Cycle route
The shorter Erdre cycling outing you can opt for is just 12km long, but is not signposted for cyclists. You head out along the river's west bank and return via its east bank, following the Erdre from the level of La Jonelière's railway bridge (so starting some way north of central Nantes up the Erdre, close to where the city's major ring-road crosses the river). 
The longer Erdre cycling excursion is 37km in length. You travel Nantes > Sucé-sur-Erdre and back via the signposted Vélodyssée route, with a possible link that is not signposted allowing you to discover the Erdre riverbank up close.
Take care at these particular points
• There's a section where it is strictly forbidden to ride your bike, between La Grimaudière and La Gandonnière, as this area is a zone naturelle sensible (a protected, fragile natural zone)
• As you cross the Domaine de la Desnerie woods, watch out for potholes
• There's a slightly tricky rise to negotiate (with an earth track and some small steps) after Port-Barbe
SNCF train services
Bicycles are accepted on the line linking Nantes, Nort-sur-Erdre and Châteaubriant
From Nantes railway station, TER regional trains stop at La Chapelle-sur-Erdre Centre, La Chapelle-Aulnay and Sucé-sur-Erdre
Don't miss
Nantes : Île Versailles, an island in the Erdre close to the city centre, La Jonelière's quays (some way north up the Erdre from the city centre)
La Chapelle-sur-Erdre : the Domaine de la Desnerie woods; La Grimaudière's port; the Erdre at La Gandonnière
Sucé-sur-Erdre : the port