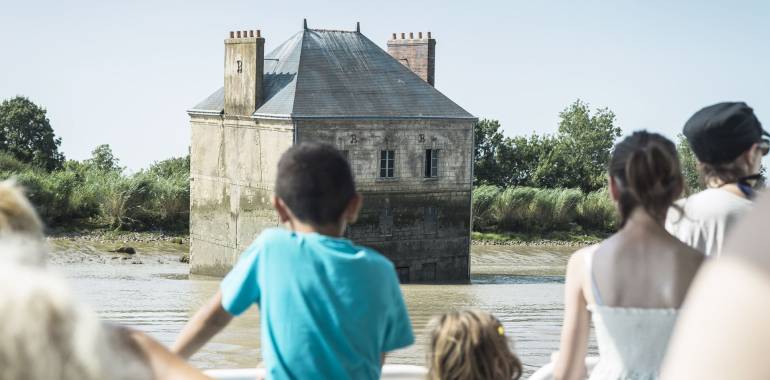 This cycling outing is fun, making you switch from one bank of the Loire to the other via the little Loire ferries available, your overall route tracing a big figure of 8! Discover startling art installations put in place for the great Estuaire contemporary art biennales and scattered along the way, guiding you to remarkable Loire-side sights – look out for improbable animals, a strange, history-laden castle, a malleable boat, a house set on the water and a great white phosphorescent tree!
Cycle route
A 56km day trip using both La Loire à Vélo and La Vélodyssée, signposted virtually the whole way, except between the exit from Trentemoult up to La Roche-Ballue (in Bouguenais).
The route takes you via: Nantes > La Montagne > Indret (ferry) Indre > Coueron (ferry) Le Pellerin > Indret (ferry) Indre > Nantes
Take care at these particular points
• at Cheviré, around the timber port area, as lorry traffic is often heavy around here
• at weekends, around Cheviré's timber port, as access is controlled and restricted via here beyond the working week, making it impossible to get through by bike if you have panniers, a trailer attached to your bike, or if you are on a tandem
• between Port-Lavigne and La Roche-Ballue, where there's a stretch where the track's surface can be very soft for cyclists
• around La Montagne, where there are some steep stretches
SNCF train services
Train stations at Nantes, Chantenay and Couëron: you can take your bike on the regional TER Nantes <> Le Croisic line and on Interloire services.
Don't miss
Nantes: Les Machines de l'île (amazing outsized mechanical creatues on which you can take a ride on the central Ile de Nantes); also on the Ile de Nantes, Les Anneaux by sculptor Daniel Buren (part of a series of startling contemporary works originally made for the Estuaire biennales, now forming a permanent exhibition of massive art installations set between Nantes and the Loire Estuary)
Rezé: Trentemoult, an atmospheric former Loire fishermen's village, on the Loire's south bank near central Nantes; Le Pendule by Roman Signer (another installation made for an Estuaire biennale)
Bouguenais: Port-Lavigne, la Roche-Ballue, The Settlers by Sarah Sze (a further work made for an Estuaire biennale)
Saint-Jean de Boiseau: the Château du Pé and the highly amusing Estuaire work Did I miss something? by Jeppe Hein
Le Pellerin: the Canal de la Martinière, running parallel to the Loire and Misconceivable by Erwin Wurm (nicknamed 'le bateau mou', or 'malleable boat', yet another work made for Estuaire)
Indre: the Sunday market; the artwork Serpentine Rouge by Jimmie Durham (once more part of Estuaire permanent exhibition)