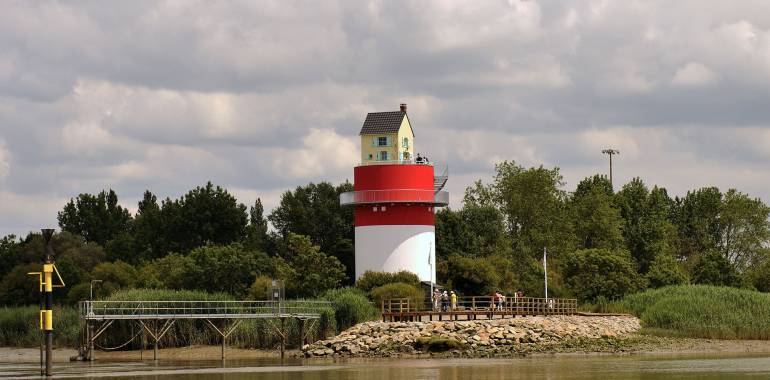 This cycling excursion takes you along the Loire, some way west from central Nantes, offering wide-angle views both of the Audubon Marsh and a long stretch of the great river, best seen from the top of La Villa Cheminée, an Estuaire artwork at Cordemais. Guiding you through nature reserves and industrial landscapes, this trail allows you to explore the mighty Loire Estuary, passing through hidden little villages too.
Cycle route
This excursion combines a part that follows the La Loire à Vélo cycle route, as far as Couëron, and a part that follows the cycling circuit called Cœur d'Estuaire, taking you through marshlands to Cordemais. In all, the trail covers 44km. Note that beyond Cordemais follow "Vélo Détours".
Link without signposts to Lavau-sur-Loire; it's a 13.5km detour just to get to this hidden old port.

Take care at these particular points
• leaving Cordemais to cycle to Lavau-sur-Loire, note that the route has not been specially laid out, so take extra care along this stretch.
SNCF train services
Train stations at Nantes, Chantenay, Basse-Indre - St-Herblain and Couëron: you can take your bike on the regional TER and Interloire services.
Don't miss
Nantes: Mémorial de l'Abolition de l'Esclavage (recalling France's abolition of slavery and the fact that Nantes was one of the French ports that profited most from the slave trade); Estuaire biennale works De Temps en temps by François Morellet and Lunar Tree by Mrzyk and Moriceau
Couëron: La Maison dans la Loire by Jean-Luc Courcoult (another Estuaire biennale work); the quays; the marshlands
Cordemais: Villa Cheminée de Tatzu Nishi (yet another Estuaire artwork, this one doubling as a place to stay, by advanced reservation!), open to the public on Sundays, 2pm – 6pm.
Lavau-sur-Loire: the hidden old port and L'Observatoire by Tadashi Kawabata (an Estuaire biennale work allowing you to go on foot, on boardwalks through the marshes, to an observation point over the Loire Estuary)Cycle route