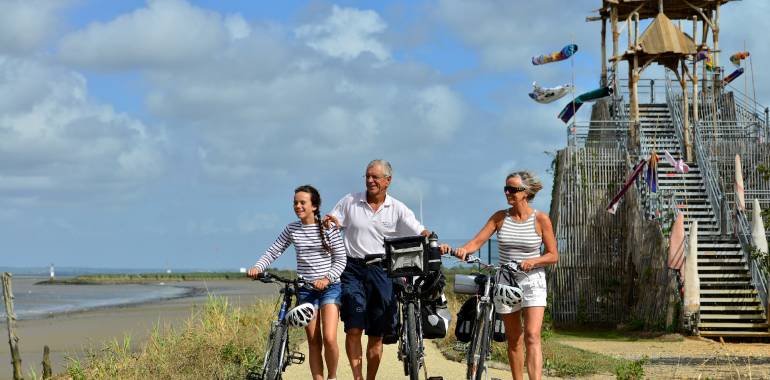 This cycling excursion leads you through a fantastic imaginative world, as the way is dotted with many major open-air artworks created for the Estuaire contemporary art biennales, including: Le Pendule; The Settlers; the artists' rooms in the Château du Pé; Misconceivable; Le Jardin étoilé; and, arriving at Mindin Point, the Serpent d'océan. All told, this makes for a great outing to stimulate the whole family's imagination!
Cycle route
Your way is entirely signposted from Nantes to St-Brevin, as you're following the joint route of La Loire à Vélo and La Vélodyssée on this outing.
Take care at these particular points
• on the stretch from Paimboeuf to St-Brevin, which is undergoing improvements
SNCF train services
Train stations at Nantes, Rezé Pont-Rousseau and St-Nazaire: you can take your bike on regional TER and Interloire services.
Don't miss
 
Nantes: Les Machines de l'île (amazing outsized mechanical creatures on which you can take a ride on the central Ile de Nantes); the  lively Quai des Antilles and Les Anneaux, an Estuaire biennale open-air artwork by Daniel Burren
Rezé: Trentemoult, an atmospheric former Loire fishermen's village, on the Loire's south bank near central Nantes; Le Pendule by Roman Signer (another installation made for an Estuaire biennale)
Bouguenais: Port-Lavigne; La Roche-Ballue; The Settlers by Sarah Sze (another Estuaire work)
St-Jean de Boiseau: Le Château du Pé and the artwork Did I miss something? by Jeppe Hein (further Estuaire works)
Le Pellerin: Canal de la Martinière; Misconceivable by Erwin Wurm (an Estuaire biennale work nicknamed 'le bateau mou', 'the malleable boat')
Paimboeuf: Le Jardin étoilé by Kinya Maruyama (yet another Estuaire work)
St-Brevin: Serpent d'océan by Huang Yong Ping (a further Estuaire work); the beach