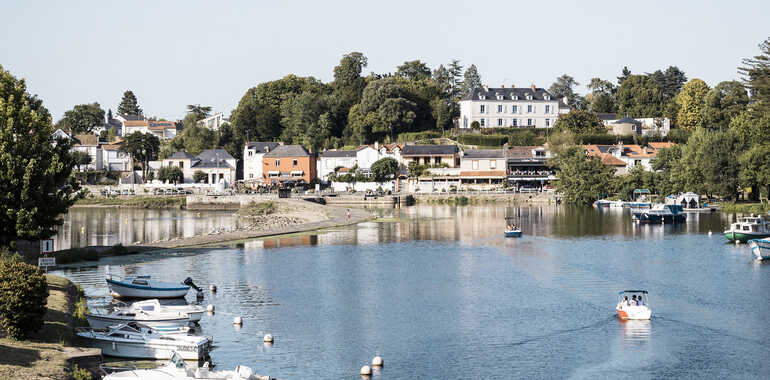 While awaiting the creation of a safe cycle route between Nantes and the Italianate town of Clisson, here's a fine family outing, heading southeast out of Nantes via the region's famous Muscadet vineyards to Vertou, the parish within the Nantes Métropole area that can boast the largest number of hectares of AOC Muscadet vineyards, 600 in all. The heritage area of La Chaussée des Moines offers a wonderful waterside setting for relaxing, boating or enjoying a quay-side meal.
Cycle route
What with Nantes Métropole's efforts to create unbroken cycle routes across the greater metropolitan area, this route makes use of the north-south axis already in existence, combined with the Sèvre River towpath, which has been adapted to cyclists. This is an excellent option for a family cycling outing.
It's also possible to continue your excursion further along the banks of the Sèvre River.
Alternative route if cycling with a trailer or on a tandem: in the direction Nantes > Vertou
• between Pirmil and La Morinière Bridge, keep to the south bank of the Sèvre
• from La Morinière, heading along the north bank, follow the alternative route signalled in purple on the map to avoid the spots where access is restricted
Additional link towards Vertou train station
SNCF train services
Train stations at Nantes and Vertou: you can carry your bike on the regional TER line here.
Don't miss
Nantes : Nantaises cows (a rare breed) at Les Roches Vertes (on the banks of the Sèvre)
Vertou : la chaussée des Moines Causeway beside the Sèvre
Markets
On the banks of the Sèvre: a small-scale market takes place on Beautour quay, Thursdays, 8am – 1pm
Vertou: on Place du Marché, both Saturdays and Sundays,  8am – 1pm