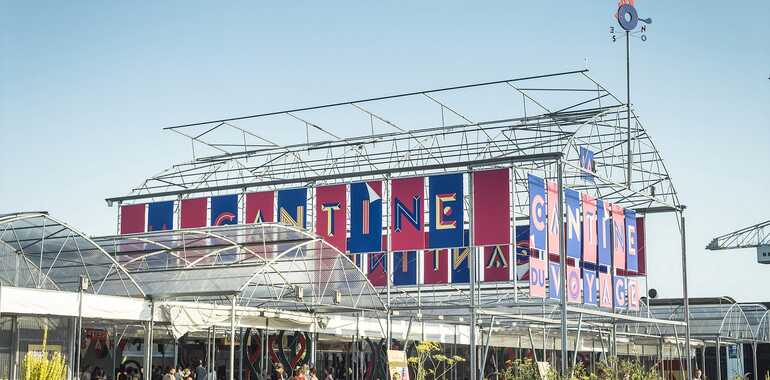 On this Loire island just south of Nantes's historic city centre, follow a gentle 15km cycle trail revealing the island's amazing recent transformations. Enjoy the exhilarating mix of refreshing riverside air, remarkable architecture (much of it contemporary) and monumental open-air artworks on show. Why not try the psychozygomatic training activity available en route, something to make you smile!
Cycle route
The trail makes the most of the mixed pedestrian and cycling facilities put in place by Nantes Métropole for as many people as possible to make the most of touring this completely transformed former industrial island.
[Description given following a clockwise tour.]
Take care over these particular points, and remember to cycle slowly around the island!
• as the Loire is still tidal at this point, during certain particularly high tides, sometimes the riverwaters can cover the track, in which case switch to the road that is located a bit higher, above the path
• go particularly slowly along the stretches which have cobbles, are particularly narrow, or have very sharp, right-angle bends
• note that it is not possible to cycle under Pirmil Bridge or Trois Continents Bridge
• avoid passing under Anne de Bretagne Bridge on your bike because of the stairs here
Tourist office
Nantes Tourisme : 0892 464 044
Don't miss
Nantes: the château, its museum and its reflective water features; the psychozygomatic training course, accessible to all on the eastern tip of the Ile de Nantes; Les Machine de l'Ile (monumental mechanical moving structures on which you can book a ride); on the island's western side, the Quai des Antilles, with its lively scene, and the dominating Titan cranes; numerous monumental open-air artworks made for the Estuaire contemporary art biennales, including Portail 0°-90°, portail 8°-98°, Les Anneaux, Résolution des forces en présence and L'Absence.