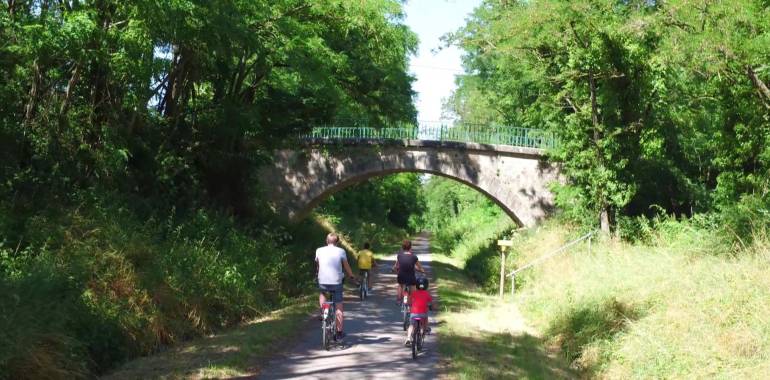 Leaving Chalon, enjoy one of the most beautiful greenways on the whole Burgundy by Bike route. This stage on greenways through Southern Burgundy follows a disused railway line meandering through the Côte Chalonnaise vine slopes towards the town of Mâcon. The whole stage is on greenways, except exiting Chalon.
Waytypes of the stage
Cycle path: 14,89 km
Inconnu: 2,15 km
Route details

The official point of departure for this stage is southwest of Chalon, at Les Charreaux School (on Avenue des Charreaux), where the greenway starts.
A link for cyclists from the centre of Chalon to here is being set up.
The greenway then follows the former railway line up towards Givry, before meandering along at the foot of the slopes up to the former train station at Buxy.
There are several further well-signposted cycling circuits to explore leading off the greenway. Look at the maps available on the spot or pick up the free map, Voies Vertes & Cyclotourisme, published by Bourgogne du Sud Tourisme (the Southern Burgundy Tourist Board).
SNCF train services

Train station at Chalon
TER regional line Paris > Dijon > Beaune > Chalon > Mâcon > Lyon (numerous trains – you can transport your bike free of charge, but note that the number of spaces for bikes is limited)
TGV high-speed line Paris > Dijon > Chalon, with a limited number of spaces available for bikes, if reserved in advance (up to 6 bikes per train, by reservation only)
TER regional line Chalon > Chagny > Santenay > Montchanin (c. 6 trains per day).
There are no train stations that serve the greenway directly but the Southern Burgundy county bus service, Transdev Rapides de Saône et Loire, has some spaces for bikes on line n° 7 Chalon > Cluny > Mâcon – for further details, tel 0800 071 710
http://www.r-s-l.fr

Don't miss

Chalon-sur-Saône: an interesting stop-over town – pretty houses along the Saône quays - Cathédrale Saint-Vincent and its quarter– île St-Laurent, a renovated island with many restaurants – several high-quality museums, including the excellent Musée Nicéphore Niépce, devoted to photography (invented by the local man after whom the museum is named) - Givry: a charming winemakers' village – the many-domed church – Buxy: the fortified village – the Musée du Vigneron (wine museum) – wine cellars to visit.

Markets

Chalon-sur-Saône: Friday and Sunday mornings
Buxy: Thursday mornings

Tourist information

Chalon: tel 03 85 48 37 97
Givry: tel 03 85 44 43 36
Buxy: tel 03 85 92 00 16
Accommodation on the stage