3

Voir toutes les photos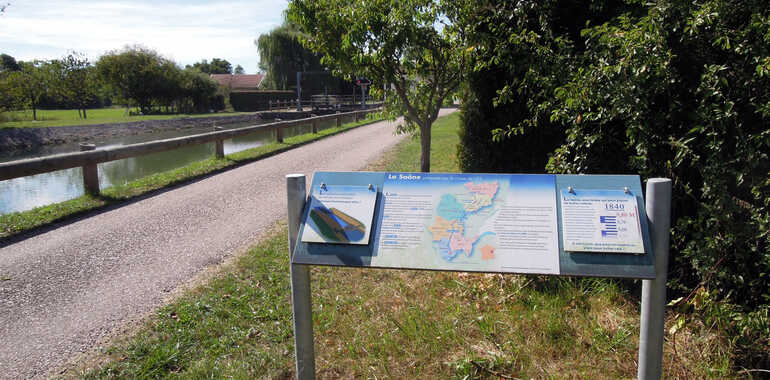 Gray is a significant stopping point along the Saône. Leave it via a beautiful road hugging the river. Enjoy the watery attractions of the route to the full along this stretch, with the beach at Velet, the fishermen's huts, the little quays, all signs of intense human activity along the river. The Château de Talmay offers a tempting pause along the V50 - Moselle-Saône valley by bike before you reach the important ports of Pontailler-sur-Saône and Lamarche-sur-Saône.
The route
From Gray, the way beside the Saône rolls along very easily. Up to the Mantoche Lock there are stretches without motorized traffic. Between Essertenne-et-Cessey and Talmay cyclists share the way with motorized traffic. A bit before Heuilley-sur-Saône you return to the Saône's banks, right up to Lamarche-sur-Saône.
At time of writing, this stretch is signposted Charles le Téméraire. Note also that in the county of Côte d'Or, the route is known as la voie bleue.
Intersection with the Canal entre Champagne et Bourgogne (V 53) at Heuilley-sur-Saône
Towards the Champagne-Ardenne Region via the Canal de la Champagne à la Bourgogne (Véloroute 53) heading up towards Langres, Chaumont and St-Dizier. Two kilometres after Heuilley-sur-Saône you come to the intersection with the Canal entre Champagne et Bourgogne, where you can connect with Véloroute 53 and the cycle route baptized Entre Champagne et Bourgogne.
 
Be aware: along the sections that are closed to ordinary traffic, note that you may still encounter service vehicles and anglers' cars.
Tourist Offices

Val de Gray
3 quai Mavia
70100 Gray
03 84 65 18 15
tourisme@cc-valdegray.fr
http://www.cc-valdegray.fr
Cap Val de Saône
3 rue du 8 Mai 1945
21270 Pontailler-sur-Saône
03 80 47 84 42
contact@capvaldesaone-tourisme.fr
http://www.capvaldesaone-tourisme.fr 
http://www.capvaldesaone-tourisme.fr
Don't miss
Mantoche: the view onto Mantoche from the opposite bank; the bridge for pedestrians and cyclists
Talmay: the 18th-century château and French-style garden
Heuilley-sur-Saône: Maison de l'eau de la pêche et de la nature, on local nature
Pontailler-sur-Saône: river port on the Canal St-Eloi; outdoor recreational centre
Lamarche-sur-Saône: river port; range of shops