arrow_back
Véloroute du Lin
Old railway, Nature & small heritage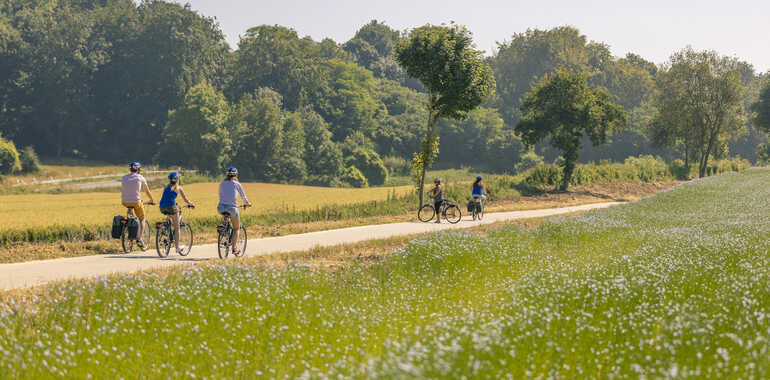 Did you know? Normandy is the leading producer of flax in the world. The Véloroute du Lin route plunges you into the heart of the Pays de Caux, an area stretching south from the Channel to the Seine, full of flax fields, lakes, fish farms and watercress plots. The route offers an excellent alternative for families to cycling along La Vélomaritime (EuroVelo 4), the latter sticking closer to the coast. The best time to admire the flax is in June, when its little blue flowers emerge across a ten-day period… while you can still enjoy the sea at the beginning and end of the ride.
Signposting and state of The Véloroute du Lin cycle route
The route is signposted all the way along, in both directions, and makes good use of a former railway line linking Pourville-sur-Mer to Fécamp. 
On the section between St-Pierre le Viger and St-Vaast-Dieppevalle, as well as when crossing Luneray and Colleville, there are stretches shared with motorized traffic.
The surface is mostly tarmacked.
There are direct links to La Vélomaritime EuroVelo 4 from Pourville-sur-Mer and Fécamp.
Reaching the route by train 
SNCF (French national railways network)
Dieppe: via regional TER line Rouen < > Dieppe, with spaces for bikes 
Fécamp: via regional TER line Le Havre < > Bréauté Bieuzeville < > Fécamp, with spaces for bikes
favorite_border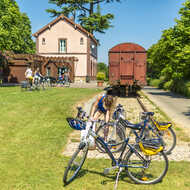 Old railway, Nature & small heritage
From Pourville-sur-Mer, next to the port of Dieppe, the Véloroute du Lin takes you inland to Cany-Barville to start [...]
favorite_border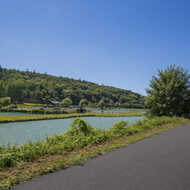 Old railway, Nature & small heritage
On this stage, you head towards the coast and Fécamp, a port closely associated with Normandy's dukes. Leaving [...]