arrow_back
Caderousse / Avignon ViaRhôna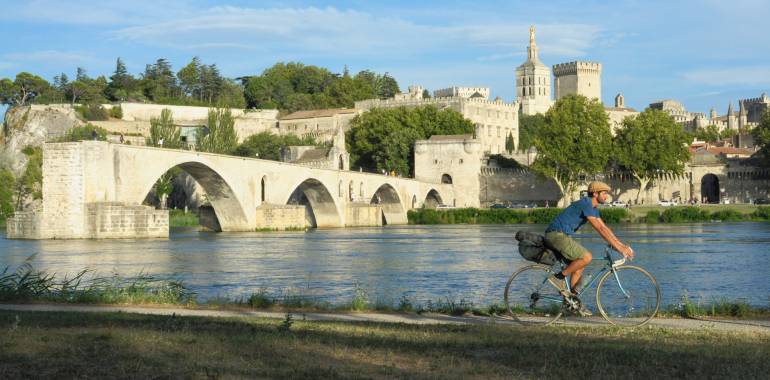 Leave the village of Caderousse using a provisional stretch of the ViaRhôna route leading to the famed vineyards of Châteauneuf-du-Pape. The way takes you along steep vine-covered slopes with beautiful views down on the Rhône Valley. However, reaching the 3.5km stretch of retail parks and industrial zones in the parishes of Sorgues and Le Pontet, take care until you reach the canal-side greenway leading into Avignon. Enjoy impressive first views of France's historic papal city as you approach it.
Waytypes of the stage
Cycle path: 17,12 km
By road: 12,05 km
Provisional itinerary: 15,42 km
Railway station (SNCF):
Orange
Sorgues
Avignon
Tourist Information Centres:
Office de tourisme de la communauté de communes du Pays Réuni d'Orange
+334 90 83 71 08
+334 32 74 32 74
Don't miss:
Châteauneuf-du-Pape: for the wine cellars and panoramic views across the area's vineyards; the Romanesque church of Notre-Dame; the hilltop ruins of the 14th-century papal castle; the chapels dedicated to St Pierre de Luxembourg and St Theodoric
Sorgues: the Pont des Arméniers, a fine bridge across a former branch of the Rhône River; L'Oiselet Island, ideal for picnics; the old town centre with its market.
Avignon: the historic centre, declared a UNESCO World Heritage Site; the Palais des Papes, the huge palace built for the 14th-century popes based here; fine churches dotted around town; the part-ruined Pont d'Avignon over the Rhône, focus of a famous French song; notable arts museums, such as the Petit Palais, Calvet, Angladon, Vouland and Lambert; the Musée Lapidaire (on archaeology); the Opera House; the Cloître St Louis; the July Festival d'Avignon, French equivalent of the Edinburgh Festival, centred on theatre
The best cycling holiday breaks
to make the most of this
They did it!
favorite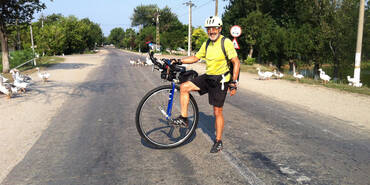 Hans Howald a parcouru l'intégralité de l'itinéraire ViaRhôna suivi du canal des 2 mers à vélo, le tout sur une roue !