Old railway, Canals & intimate rivers, Nature & small heritage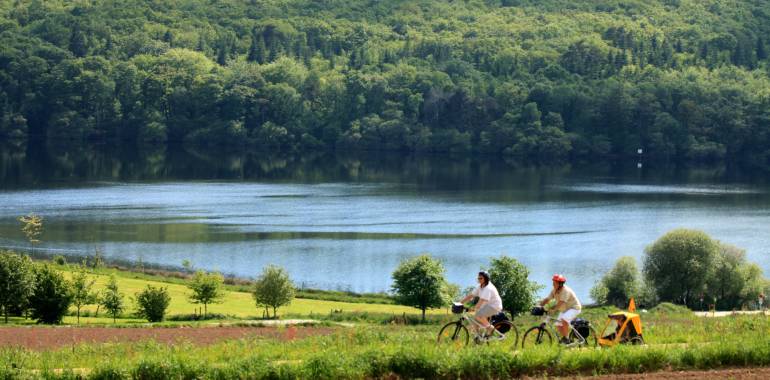 12,77 km cycling route from Mûr-de-Bretagne to St-Caradec
A greenway allows you to leave the pretty old hilltop town of Mûr-de-Bretagne with ease. You enter a landscape of traditional fields divided by hedgerows. Saint-Caradec, a village at the crossroads with Voie 8 (Route 8) and the Rigole d'Hilvern Channel towpath track, offers a deeply rural stop on this short stage.
Waytypes of the stage
Cycle path: 11,62 km
By road: 1,15 km
Surface of the stage
Lisse: 1,15 km
Rugueux: 11,62 km
The route
As you leave Mûr-de-Bretagne, make sure you follow the signs for  the 'Chemin du Petit Train'. Note that the signage showing a white arrow on a green background simply indicates a local cycling circuit. The route is well surfaced and completely separate from motorized traffic. The way is extremely straight in parts. It slopes slightly as it runs parallel to the N 164 road.
Take care: on two occasions you need to cross the busy N 164 road. Note too that the surface on this stage often consists of compacted sand.
Bus
Tibus Line N°4 Carhaix <> Loudéac, offering the possibility of putting your bike in the hold, but only outside of rush hour. For further information, contact CFTA Carhaix - VEOLIA Transport. Tél : 02 98 99 12 18.
Accommodation on the stage