arrow_back
In the vineyards, Canals & intimate rivers, Nature & small heritage
22,74 km cycling route from Chalonnes-sur-Loire to St-Florent-le-Vieil
This Loire à Vélo stage in Anjou crosses the startling island of Chalonnes, one of the largest on the Loire. Nearby, along the south bank, are the celebrated Coteaux du Layon vineyards, then the pretty perched villages of Montjean-sur-Loire and St-Florent-le-Vieil. The route is along quiet roads, cyclists able to make the most of the raised Loire-side levées and views across the islands.
Waytypes of the stage
Cycle path: 1,75 km
By road: 20,99 km
Surface of the stage
Lisse: 21,76 km
Inconnu: 0,99 km
Route
On the  Ile de Chalonnes, on quiet roads through these historic parts. From Montjean-sur-Loire, the route goes on levées used by very few cars. From Ingrandes to St-Florent the D 210 road does have quite a lot of traffic.
Link
At Ingrandes, cross the bridge onto the north bank of the Loire to reach the village with its train stop.
Railway station - SNCF
Ingrandes train stop (automatic ticket machine): TER regional trains serving Angers, Tours, Orléans and Nantes.
Don't miss
Île de Chalonnes: one of the largest islands on the Loire, inhabited by man since prehistoric times. Typical Loire dwellings to admire.
Chalonnes-sur-Loire: the remarkable Château de Candais; St Pierre Tower
Montjean-sur-Loire: it's worth the very steep climb up to the village to admire the glorious panorama across the Loire Valley; try a boat trip out on the Loire – choose from La Ligériade II, La Montjeannaise or Le Balbuzard
Ingrandes: once an important port on the Loire, with toll, but known for its salt smuggling to avoid the gabelle, or salt tax
St-Florent-le-Vieil: in former times, with a gabelle (salt tax) toll; Mont Glonne abbey church, with tremendous views down on the Loire from its terrace; museum of local history and of the anti-Republican Revolutionary Guerres de Vendée
Markets
Chalonnes-sur-Loire: Tuesday and Saturday morning
Montjean-sur-Loire: Thursday morning
Ingrandes: Friday morning
St-Florent-le-Vieil: Friday afternoon
Tourist Information centres
Chalonnes-sur-Loire: +33(0)2 41 78 26 21
Montjean-sur-Loire: +33(0)2 41 39 07 10
Ingrandes: +33(0)2 41 39 29 06
St-Florent-le-Vieil: +33(0)2 41 72 62 32
Accommodation on the stage
The best cycling holiday breaks
to make the most of this
They did it!
favorite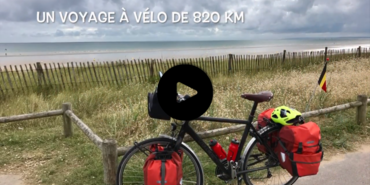 3 véloroutes, 820km, 7 jours à vélo : le récit de Jean Marc
favorite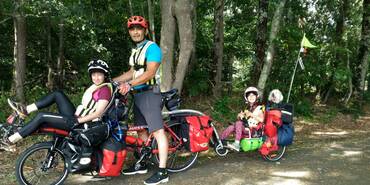 Ils sont 4 et partent en voyage en tandem + remorque en famille !
favorite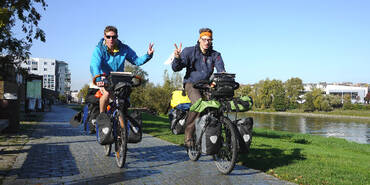 Le point de départ d'un tour du monde : la France et ses nombreux itinéraires !