arrow_back
Gateway to the famed Loire Valley heartlands, once a capital in early medieval France, Orléans is now a lively modern city. It's an ideal place to join the Loire à Vélo and EuroVelo 6 cycle routes. Whether heading upstream or down, it's simple for cyclists to find the cycle paths leading to the Loire. This stage is as easy as it is enjoyable!
Waytypes of the stage
Cycle path: 2,74 km
By road: 4,85 km
Surface of the stage
Lisse: 7,49 km
Inconnu: 0,10 km
Route
From Orléans train station, join the Loire-side cycle path before crossing the river via the Pont de l'Europe bridge. A tour of Orléans city centre is strongly recommended.
Railway Station - SNCF
Orléans train station: numerous train connections to and from Paris and along the Loire (Interloire trains have a special carriage taking bicycles in summer).
Don't miss
Orléans: a remarkable restored historic centre, served by new tramway; Place du Martroi square and its statue of Joan of Arc (famed liberator of the city from English besiegers in 1429); Ste-Croix Cathedral ; streets lined with timberframe houses, like lively Rue de Bourgogne; high-quality museums, plus the historic Hôtel Groslot wedding hall; outdoor sports and recreation centre on Charlemagne Island. All the facilities and shops of a big city.
St-Hilaire-St-Mesmin: 11th-century church, historic bridge over the Loiret River, plus the historic Carmel de Micy.
Markets
Orléans : tous les jours : halles du Châtelet, jeudi après-midi Place Dunois, samedi matin quai du Roy
Tourist Information Centre
Orléans : +33(0)2 38 24 05 05
Did you like this?
You may also be interested in this...
They did it!
favorite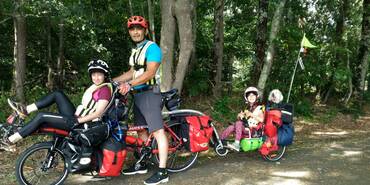 Ils sont 4 et partent en voyage en tandem + remorque en famille !
favorite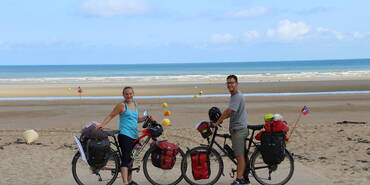 Une aventure de plusieurs mois de la France jusqu'à l'Allemagne