arrow_back
Canals & intimate rivers, Castles & Monuments, Nature & small heritage
29,97 km cycling route from Saumur to St-Rémy-la-Varenne
On this Loire à Vélo stage, enjoy some of the most spectacular, luminous stretches along the Loire. The route hugs the south bank of the river, allowing you to appreciate close-up remarkable buildings made in the gorgeous local tufa limestone, including the major church at Cunault and St-Maur Abbey. All told, a magical but easy stage.
Waytypes of the stage
Cycle path: 8,06 km
By road: 21,91 km
Surface of the stage
Lisse: 21,91 km
Inconnu: 8,06 km
Route
West of Saumur, the route meanders through the adjoining town of St-Hilaire-St-Florent, mainly using roads you share with motorized traffic, but with short stretches on greenways too. Follow the signposts carefully and avoid rush hours on the D 751 road (see the alternative route).
Alternatives and links
There is an alternative route beside a wilder section of the Loire between Saumur and Les Rosiers-sur-Loire.
A link leads from St-Hilaire-St-Florent up to the famed Cadre Noir's National Riding School.
For those cycling up the Loire, there is a further alternative route taking you via small roads along the slopes, avoiding the main D 751 route.
Railway station - SNCF
Saumur train station: 2 trains per day, on average, allowing bikes, either going west to Angers and Nantes, or east to Tours and Orléans.
Don't miss
Saumur: one of the most remarkable historic towns along the Loire Valley; château dominating the Loire; splendid old churches and houses; glorious horse-riding traditions; magnificent wine houses; numerous exhibitions and events year-round
St-Hilaire-St-Florent: home to the famed Cadre Noir riders who train at the École Nationale d'Équitation (National Riding School); subterranean wonders to visit, including magnificent wine cellars offering tours
Trèves: with a remarkable Romanesque church and the remnants of a 15th-century fortified castle
Cunault: magnificent priory church
Gennes: Gallo-Roman vestiges
Le Thoureil: a charming riverside village with its port for traditional Loire boats
St-Maur: with an historic Benedictine abbey rebuilt in the 19th century (in private hands)
St-Rémy-la-Varenne: for its historic Benedictine priory; boat trips possible on board the Loire de Lumière.
Les Rosiers-sur-Loire: it's worth crossing the bridge over the Loire to explore this lively riverside village.
Markets
Saumur: Saturday
Cunault: Sunday morning
Tourist Information Centre
Cunault: +33(0)2 41 67 92 55
Gennes: +33(0)2 41 51 84 14
Saint-Martin-de-la-Place: +33(0)2 41 38 43 06
Les Rosiers-sur-Loire: +33(0)2 41 51 90 22
St-Rémy-la-Varenne: +33(0)2 41 57 32 3
Accommodation on the stage
The best cycling holiday breaks
to make the most of this
Did you like this?
You may also be interested in this...
They did it!
favorite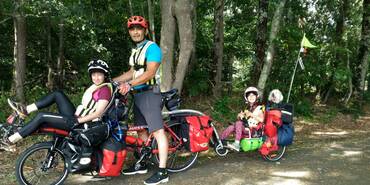 Ils sont 4 et partent en voyage en tandem + remorque en famille !
favorite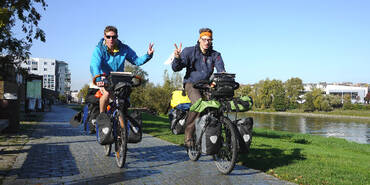 Le point de départ d'un tour du monde : la France et ses nombreux itinéraires !
favorite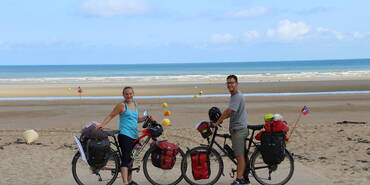 Une aventure de plusieurs mois de la France jusqu'à l'Allemagne