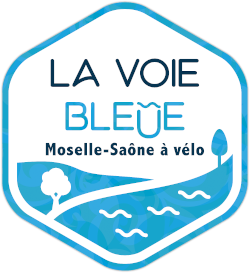 arrow_back
19,88 km cycling route from Mâcon to Thoissey
Leaving Mâcon, you start to feel the pull of southern France as you race straight southwards towards Thoissey. Having made the most of visiting this town's historical and archaeological sites, La Voie Bleue leads you along the east bank of the Saône. Around here, you pass through natural landscapes marked by wetlands and poplar plantations, home to many species of birds. This stage of the route also offers lovely views on the Mâconnais and Beaujolais hills. Along the way, stop at the restaurant at Port de By or at the outdoor leisure lake at Cormoranche-sur-Saône.
Waytypes of the stage
Cycle path: 16,78 km
By road: 3,10 km
The route
From Mâcon, the route follows the quays on the right bank to the François Mitterrand bridge, which you cross to reach the other bank.
After the Pont François Mitterrand and the traffic circle, take the RD 51 to the intersection with the Route des Quatre Arches. 
Cross the RD 51 to take the Route des Quatre Arches (shared road) to a reserved soft-mode lane that passes through a meadow (Natura 2000).
At the end of the meadow: cross the RD 51 again to take the Port de By footbridge.
At Port de By, you'll find the tranquility of a stabilized towpath between the plain and the Saône.
The path was completely renovated in 2023 and features a comfortable stabilized sand surface.
Warning: on sections closed to traffic, there may occasionally be farm machinery or fishermen's vehicles.
SNCF (French national railways network)
TER line Dijon <> Mâcon <> Lyon et Macon <> Bourg-en-Bresse <> Genève
Don't miss
Mâcon: walking tour "le tracé de la plume", the Hôtel de Senecé (18th c), the apothecary of the Hôtel Dieu, the church of Saint-Pierre, the cathedral of Saint-Vincent, the archaeological site of St-Clement, the Ursuline museum. "La Maison de Bois", the oldest house in Mâcon, built between 1490 and 1510, the Route Lamartine circuit in the footsteps of the poet and the castle park, with its many bridges over the canals and its remarkable trees.
Grièges: The shop of the cheese dairy (bleu de Bresse).
Cormoranche-sur-Saône: the leisure centre & 4* campsite labelled "accueil vélo" (2020). Swimming, restaurants, entertainment, camping, accommodation rental.
Thoissey: Arboretum, Ste-Madeleine church and paintings of Sarrabat, Apothecary's.
Pont-de-Veyle
Accommodation on the stage