arrow_back
This stage begins in the heart of the Bray area, veritable picture postcard Normandy with its cattle and its apple orchards. It was here on the former Dieppe to Paris railway line that the Avenue Verte London-Paris was born. Furthermore the places through which you pass still have reminders of their railway past with the houses of level crossing keepers, old railway stations now put to new uses, signs and marker posts… As the miles pass, you will sense the scent of sea air get stronger. And what a finishing line with the impressive white chalk cliffs of the Alabaster Coast!
Waytypes of the stage
Cycle path: 51,60 km
By road: 4,47 km
The cycle route
Greenway built on the old railway line to the entrance to Dieppe. 
SNCF railway stations
TER Dieppe - Rouen, about 15 trains / day during the week and 6 on Sundays 
Intercités SNCF line Paris - Rouen - Dieppe : St-Aubin-sur-Scie, Dieppe.
They did it!
favorite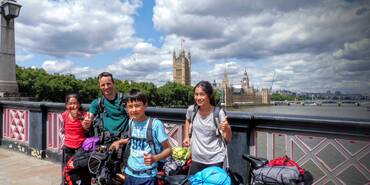 Une famille de vélotouristes revient sur son voyage à vélo sur l'itinéraire de l'Avenue verte London Paris effectué en 2015.