arrow_back
The Avenue Verte London <> Paris
The way is specially signposted for cyclists between the two great capitals, and you cross the Channel via the Transmanche Newhaven-Dieppe service, landing in Normandy. On the British side, the Avenue Verte London < > Paris makes use of the existing National Cycle Network of cycle routes. On the French side of the Avenue Verte London < > Paris, you make your way to the French capital via well-signposted small roads and greenways taking you across the following French départements, or counties: Eure, Oise, Val-d'Oise, Yvelines, Hauts-de-Seine and Seine-Saint-Denis.
Waytypes of the cycle route
Cycle path: 312,37 km
By road: 253,69 km
Surface of the cycle route
Lisse: 487,72 km
Rugueux: 22,78 km
Accidenté: 5,41 km
Inconnu: 50,15 km
Did you like this?
You may also be interested in this...
They did it!
favorite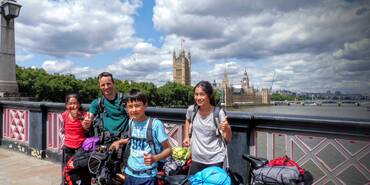 Une famille de vélotouristes revient sur son voyage à vélo sur l'itinéraire de l'Avenue verte London Paris effectué en 2015.