arrow_back
Your journey starts from the square in front of Notre-Dame cathedral, zero point for the highways of France. After cycling along the roads of the capital discovering its sights, you will follow the charming Saint-Martin canal. This greenway gets you out of Paris without too much difficulty and takes you past fascinating isles and parks, into the world depicted by the Impressionists. The Seine will be your private guide taking you to Maisons-Laffitte, and many curiosities lie along your way.
Waytypes of the stage
Cycle path: 32,45 km
By road: 12,67 km
Surface of the stage
Lisse: 39,96 km
Rugueux: 4,57 km
Inconnu: 0,59 km
The cycle route
Bicycle paths along the Villette basin to the Saint-Denis canal. From Saint-Denis station to Gennevilliers, the route takes a track along the T1 tramway, then crosses the Port of Gennevilliers to reach the "Promenade bleue". The bike ride then follows the Seine between islands and parks, reaching Chatou and Maisons-Laffitte. 
Be careful: no bicycle signage in Maisons-Laffitte
Trains stations
RER A: Nanterre-ville, Rueil Malmaison, Chatou-Croissy, Le Vésinet-Le Pecq, St-Germain-en-Laye stations.
RER D: Paris-Nord, Stade-de-France and Saint-Denis stations.
RER C: Gennevilliers station.
The best cycling holiday breaks
to make the most of this
They did it!
favorite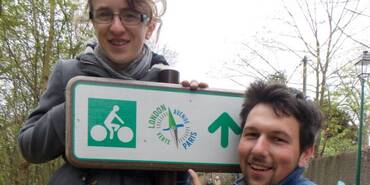 Ils ont relié Paris à Londres à deux sur leur tandem !
favorite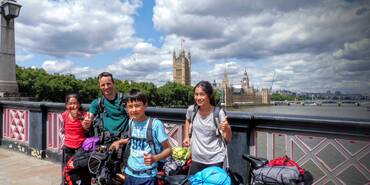 Une famille de vélotouristes revient sur son voyage à vélo sur l'itinéraire de l'Avenue verte London Paris effectué en 2015.