arrow_back
Leaving Gisors, the tiny roads follow the Epte Valley between the wooded hills of Vexin. You will then travel between peat lands, wet meadows and limestone meadows covered with large numbers of orchids in spring.
The Oise and the Normandy tracks converge to a single main track close the the famous abbey of Saint-Germer-de-Fly.
The cycle route
Course on small roads overlooking the valley with some good coastlines as we approach Neuf-Marché. Be careful on the D 17 at Sérifontaine.
SNCF railway stations
Numerous Transilien trains from Paris-St-Lazare via Conflans-Sainte-Honorine and Pontoise: Gisors (1h15'). 
They did it!
favorite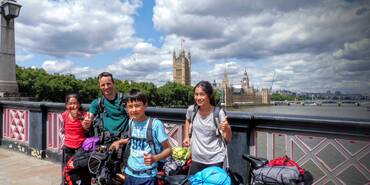 Une famille de vélotouristes revient sur son voyage à vélo sur l'itinéraire de l'Avenue verte London Paris effectué en 2015.