arrow_back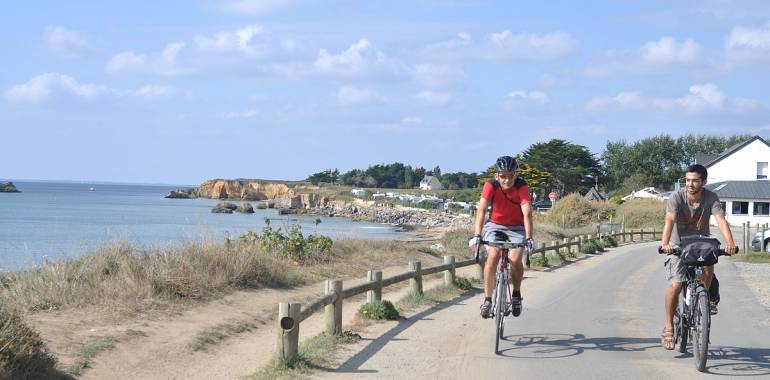 This stage, heading south from the Vilaine Estuary, is classed as being for expert cyclists, with a lot of stretches going along the water's edge. The Pointe du Bile Headland is a great spot at which to stop and appreciate the maritime atmosphere. As to the Bay of Pont-Mahé, with its gently sloping beach, you'll see how it's a favourite for learner windsurfers.
Waytypes of the stage
Cycle path: 6,20 km
By road: 16,38 km
Provisional itinerary: 0,75 km
Surface of the stage
Rugueux: 10,38 km
Lisse: 12,01 km
Inconnu: 0,19 km
Cycle route
This stage is provisional, going on small roads through built-up areas and past old-style coastal villas. Note that the way is not signposted and not laid out between Pont-Mahé and Pont d'Arm (on the D 33 road).
Be careful not to be misled by signs for local cycle trails that can easily make you take a wrong route.
In holiday season, traffic can be heavy heading for the beaches.
At Pont-Mahé, there's a rough stretch of track.
Take care on the stretch on the D 33 road at the level of Pont d'Arm as it is not set up for cyclists.
Tourist offices
Don't miss
La Mine d'Or Beach; La Pointe du Bile Headland; Pont-Mahé Bay