arrow_back
16,27 km cycling route from St-Arnoult to Rambouillet
The first part of this stage is not signposted (see route in red colour). However, the route is very pleasant, taking you along quiet roads as soon as you leave Saint-Arnoult. You quickly plunge into the magnificent Rambouillet Forest, criss-crossed by cycle tracks. Make the most of detours to the Villeneuve mill in Saint-Arnoult, much loved by the poet Aragon, and, on a different note, visit the Rambouillet's animal park.
Waytypes of the stage
Cycle path: 5,21 km
By road: 11,06 km
Surface of the stage
Lisse: 13,77 km
Inconnu: 2,50 km
The route
This 14km-long stage takes you on rural and cycling paths in Rambouillet forest, and some shared routes in the agglomeration.
No dangerous passages but sometimes undeveloped roads, which can be muddy at times. A little hilly.
Tourist offices
Accommodation on the stage
Did you like this?
You may also be interested in this...
They did it!
favorite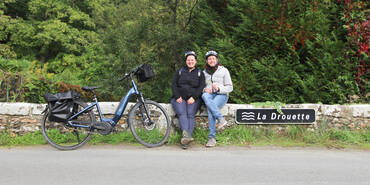 Le voyage de Sandra et Felix de Paris au Mont Saint-Michel